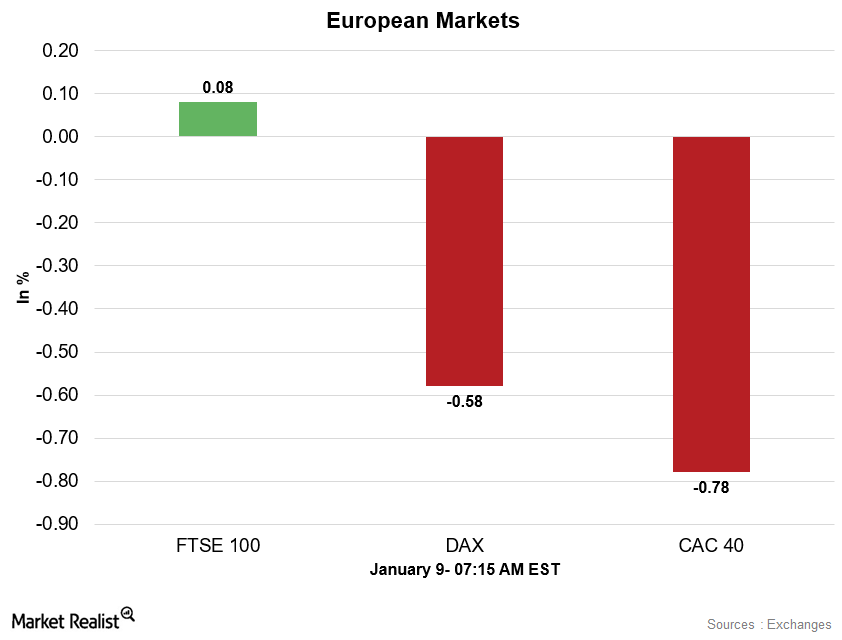 European Markets Are Mixed in the Early Hours on January 9
European markets
United Kingdom
After rising for nine consecutive trading weeks and reaching record levels, the United Kingdom's FTSE 100 index is higher in the early hours. At 4:50 AM EST on January 9, the FTSE 100 was trading at 7,227.5—a gain of 0.24%. Strong stocks in the mining sector are supporting the FTSE 100 index in the early hours on Monday.
Apart from support from miners, weakness in the pound also supported the market. The pound lost its strength amid comments made by Prime Minister Theresa May about the Brexit. In an interview with Sky News on Sunday, she said that the United Kingdom couldn't hang on to "bits of European Union membership." She also added that the United Kingdom is working to get the best deal on trade and immigration. These comments were interpreted by the market as a hint for a "hard Brexit." As a result, the pound reached two-month low levels compared to the US dollar. The iShares MSCI United Kingdom ETF (EWU) fell 0.64% on January 9.
Germany
Article continues below advertisement
After rising for five consecutive trading weeks and reaching the highest levels since August 2015, Germany's DAX index is trading weaker in the early hours. Despite strong German trade balance data, the DAX index is slightly weaker. According to data released by Statistisches Bundesamt Deutschland at 2:00 AM EST today, Germany's trade balance rose to 21.7 billion—more than the forecasted 21.2 billion in November. German exports in November rose 3.9%—the highest increase in more than four years. At 5:40 AM EST on January 9, the DAX index was trading at 11,553.75—a fall of 0.39%. The iShares MSCI Germany ETF (EWG) fell 0.33% to $26.86 on January 6.
France
After rising to the highest levels since December 2015 last week, France's CAC 40 index is slightly weaker in the early hours. At 5:45 AM EST on January 9, the CAC 40 index was trading at 4,876.80—a fall of ~0.67%. Upbeat consumer confidence data supported the index last week. The iShares MSCI France ETF (EWQ) fell 0.4% on January 6.