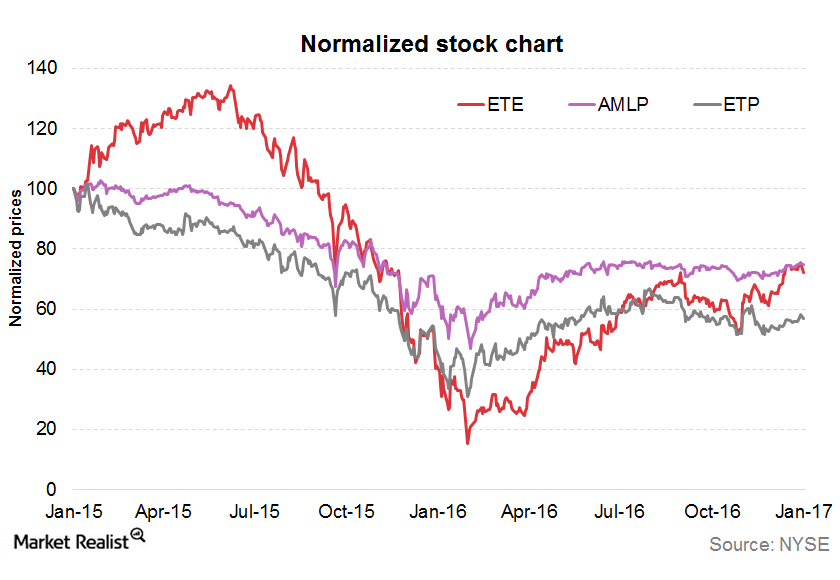 ETE Announced Financing to Support ETP: Key Highlights
ETP announced private placement
Energy Transfer Partners (ETP) announced a $568 million private placement with Energy Transfer Equity (ETE) in a press release published on January 9, 2017. ETP is expected to issue 15.8 million common units at a weighted average price of "ETP's common units for the 10 trading day period ending January 5, 2017," as noted in the related press release. The partnership expects to use the proceeds from this transaction mainly for debt repayment. We'll look into Energy Transfer's leverage situation in the next article.
Article continues below advertisement
ETE announced PIPE financing
ETE announced PIPE (private investment in public equity) financing of $580 million to pay for the common units it intends to buy from ETP in a private placement. ETE's and ETP's share fell in the two trading sessions following the announcement, which could be attributed to slight dilution resulting from this transaction.
Blackstone ends talks to buy stake in ETP
Blackstone Group, the private equity giant, has ended talks to buy a stake in ETP valued at $5 billion, according to industry sources. This could be another major reason for ETP's decline in the last two trading sessions. Blackstone's investment in Energy Transfer Partners was a positive signal for investors worried about its bad financial position and growth prospects after the shutdown of construction on the partnership's DAPL (Dakota Access Pipeline) project. The Army Corps of Engineers denied easement to drill under Lake Oahe. For more details, read 'No' for Now: U.S. Army Denied Dakota Pipeline Easement.