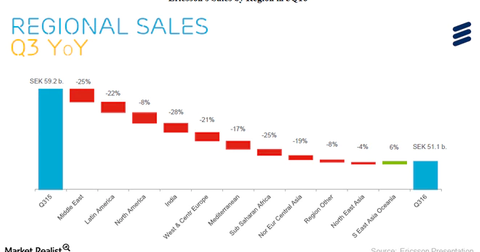 How Might Ericsson's Mobile Equipment Business Perform in 4Q16?
By Adam Rogers

Updated
A market leader in mobile infrastructure
Ericsson (ERIC) is one of the leaders in the mobile equipment market. At the end of 2015, it accounted for 34.0% of that market, which was valued at approximately $40.0 billion. Ericsson's mobile equipment business accounts for almost 50.0% of the company's revenue.
Mobile equipment is part of Ericsson's Networks segment, which develops network infrastructure for communication needs over mobile and fixed connections.
Article continues below advertisement
Weak demand for mobile broadband
Ericsson (ERIC) has been facing a challenging macroeconomic environment for a while. At its investor event in November 2016, it stated that a challenging environment, primarily in emerging markets, had impacted the investment levels of telecom (telecommunications) equipment companies. Operator investment levels in Europe were also slow, although they were stable in the United States (SPY).
Europe and other developed markets have almost finished their 4G (fourth-generation) LTE (Long-Term Evolution) rollouts. The transition to 5G (fifth-generation) technology isn't expected to start until 2020.
Analysts believe that revenues of companies such as Cisco (CSCO) and Nokia (NOK) won't be affected as negatively as Ericsson's revenue. Both companies have broader product portfolios than Ericsson and are thus protected by cyclical headwinds arising from the mobile equipment industry.
Nokia completed its acquisition of Alcatel-Lucent last year. Ericsson partnered with Cisco in late 2015 to fight the growing competition from China's (FXI) Huawei.
In 2012, Huawei surpassed Ericsson as the world's largest telecom equipment vendor. In 2015, sales for Huawei rose 37.0% YoY (year-over-year). Sales for its Carrier segment rose 21.0% YoY, driven by its 4G LTE rollout. In comparison, sales for Ericsson, Cisco, and Nokia rose 8.0%, 4.3%, and 6.0%, respectively, YoY in 2015.