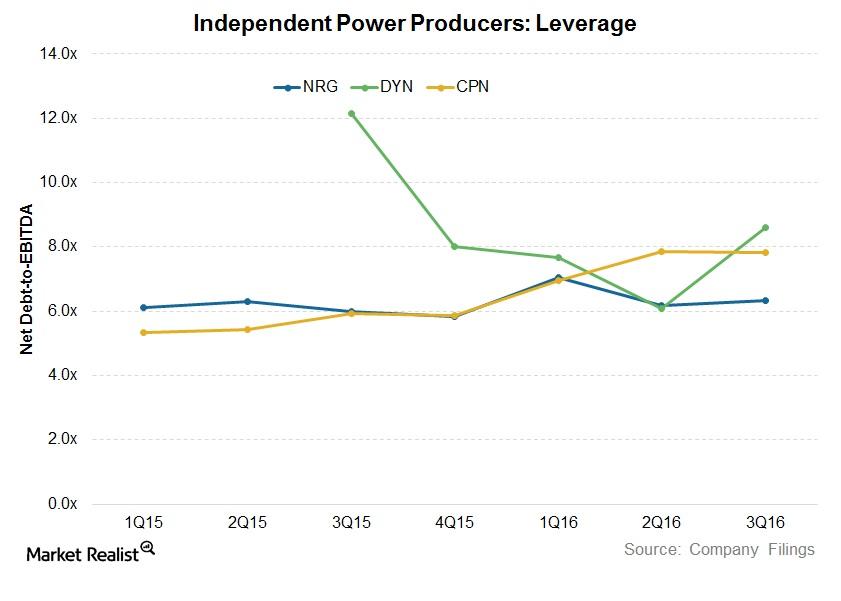 DYN, NRG, and CPN: A Look at Their Alarming Debt Profiles
Merchant power players: Debt profiles
Due to prolonged weak wholesale power prices, merchant power players' cash flows from operations have remained stressed in the last few years. Heavy capital expenditure and hedging requirements may keep their credit profile under pressure.
Article continues below advertisement
Leverage ratios
The chart above shows the net-debt-to-EBITDA (earnings before interest, tax, depreciation, and amortization) ratios of the leading merchant generators. At the end of 3Q16, NRG Energy (NRG) had a net-debt-to-EBITDA ratio of 6.3x, while Calpine's (CPN) ratio was around 8x. Dynegy had a leverage ratio around 8.6x.
Net debt to EBITDA shows how many years a company would take to repay its debt if debt and EBITDA were to remain constant.
Dynegy's (DYN) debt rose due to its frenzy for acquisitions, which helped it to increase its capacity from 10,000 megawatts in 2013 to 26,000 megawatts in 2015. Dynegy came out of bankruptcy in October 2012.
All the three merchant stocks under our consideration have leverage ratios well above the industry average. At large, utilities have leverage ratios around 3x–4x.
All leading merchant generators are focusing on debt reduction via heavy cost-cutting initiatives. As wholesale power prices rise, merchant power players' earnings can also rise, effectively bringing down the strained leverage.
Credit rating
S&P has given Dynegy a credit rating of "B+" with a stable outlook. For NRG Energy, S&P has a "BB-" credit rating and a stable outlook. Calpine has a "B+" rating and a stable outlook as well.