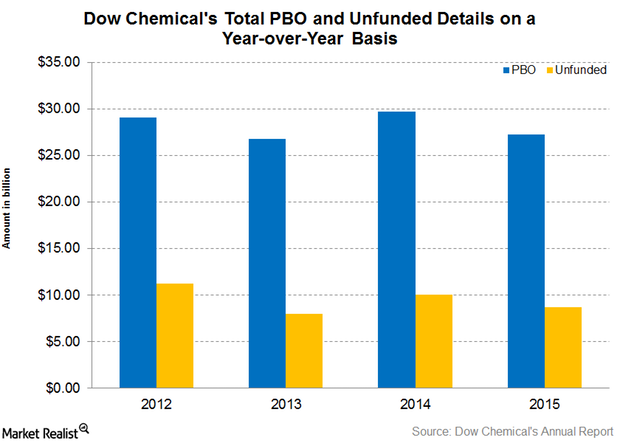 Dow Chemical's Pension: Impact of Fed Rate Hikes
By Peter Neil

Jan. 6 2017, Updated 11:05 a.m. ET
Dow Chemical's pension obligations
Dow Chemical (DOW) offers defined benefit plans to its employees in the United States and other countries. For employees hired before January 1, 2008, the benefits are calculated based on the length of service and the employee's three highest consecutive years of compensation. For employees hired after January 1, 2008, the benefits are calculated based on a set percentage of annual pay along with interest.
Article continues below advertisement
Comparing the pension obligations
Since 2012, DOW's PBO (projected benefit obligations) has been in the range of $26.8 billion to $29.7 billion. At the end of 2015, the company's total PBO was $27.3 billion, representing a funding status of 68.0%.
DOW's PBO is underfunded by $8.7 billion. In 2016, the underfunded amount rose $925.0 million due to the company's complete takeover of Corning's (GLW) stake in the Dow Corning joint venture. DuPont's (DD) PBO at the end of 2015 was $28.9 billion, representing a funding status of 60.0%. DuPont's PBO is underfunded by $11.4 billion.
Dow's funding policy is to contribute to plans when pension laws or economics require funding. In the past three years, DOW has funded nearly $2.5 billion to its pension plan. In the first nine months of 2016, it funded $567.0 million.
Impact of interest rate hike on PBO
The Fed's rate hike in December 2016 is expected to benefit DOW's pension plan in fiscal 2017. That's because a higher discount rate will be applied to calculate PBO. Interest rates directly influence the discount rate. According to DOW's estimates, a 0.25% increase in the discount rate would decrease its PBO by $50.0 million.
You can hold DOW by investing in the iShares US Basic Materials (IYM), which has invested 11.5% of its portfolio in DOW. The fund has invested 8.1% in Monsanto (MON) as of January 4, 2017.