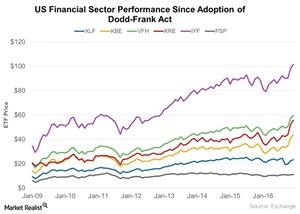 Does Dodd-Frank Act Need to Be Changed?
Is the priority of financial markets profitability or stability?
Barack Obama signed the Dodd-Frank Act into federal law in 2010. The bill was passed after the 2008 global financial crisis. The act was at the forefront of changing financial regulatory requirements and it affected the financial services industry (KRE) (XLF) (VFH).
With Trump taking office, there has been talk that the act might be curtailed due to its liquidity issues. The critics of the act believe that it has been able to achieve only slight stability at substantial cost to profitability and economic growth.
Article continues below advertisement
US financial sector performance after the implementation of Dodd-Frank Act
In contrast to the belief that the Dodd-Frank Act is restricting growth in the financial services industry, Gordon believes that the banking sector (BAC) (WFC) (JPM) (GS) is relatively stable and needs no curtailment. He says that the act should continue but needs improvements.
Many believe that the act has resulted in increased compliance costs, which affect the profitability of the financial industry. However, as the chart above shows, most ETFs have returns of above 50% over the last six years. The most beneficial outcome of the act seems to be the increased capital requirements leading to the increased level of capital, in turn boosting the sector's stability.
Volcker rule and the illiquidity issues
The Volcker rule under the Dodd-Frank Act came into existence to deter speculative investments that led to the 2008 global financial crisis. The Volcker rule restricts banks from conducting certain speculative and proprietary investments with their accounts. It also limits the relationship with private equity and hedge funds due to the conflict of interest. Some critics claim that it leads to reduced market liquidity. The banks are forced to reduce their exposure to certain risky investments, resulting in reduced activity and liquidity issues. The liquidity issue has likely cost investors and banks billions of dollars.
According to Gorman, the Dodd-Frank Act should stay, as it helps in many ways to keep the financial sector safer. Some elements like the Volcker rule may need change due to ambiguity. Gorman believes that as the markets improve, lending will increase with interest rates hikes in the US. Gorman states that the act helps banks in a number of ways:
ensure capital sufficiency
ensure financial stability of the banks
crisis management