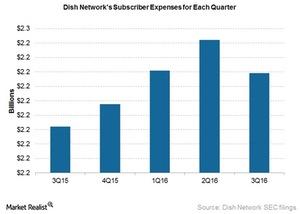 Inside Dish Network's Programming Cost Outlook
By Shirley Pelts

Jan. 5 2017, Updated 7:35 a.m. ET
Factors affecting Dish's rising programming costs
Dish Network's (DISH) programming costs are a key component of the company's "subscriber-related expenses" and form a large part of its total expenses. Dish talked about its programming expenses at its fiscal 3Q16 earnings call, stating that the rise in programming costs also depend, to a certain extent, on when its retransmission contracts for local broadcast channels are up for renewal.
Dish also noted that as the OTT (over-the-top) business continues to be flooded with new entrants and skinny bundles, it expects viewers to switch between packages. Dish also expects pricing pressure on content companies who provide content to linear television networks like Dish.
Article continues below advertisement
Dish added that to attract such viewers back to pay-TV, it has become essential to make the content on linear television attractive through reduced ad loads and dynamic insertion of ads. But Dish also pointed out that many content providers have not been willing to change because they already have long-term programming contracts with pay-TV companies, which ensures a certain revenue for content companies for the term of the contract.
Dish's programming costs in fiscal 3Q16
Dish had subscriber expenses of $2.2 billion in in fiscal 3Q16, which represents a 1.7% rise over fiscal 3Q15. This rise in subscriber expenses was primarily a result of an increase in programming costs, and the rise in programming costs was primarily a result of higher programming rates paid by Dish to content companies as a part of its programming contracts.