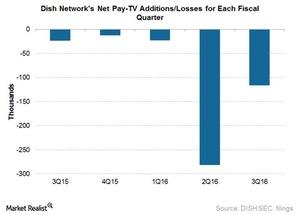 How Is Dish Network's Flex Pack Working Out?
By Shirley Pelts

Jan. 3 2017, Updated 4:05 p.m. ET
Dish's Flex Pack
In September 2016, Dish Network (DISH) launched its Flex Pack, which offers consumers a basic channel bundle of 50 channels and one additional pack of channels for $39.99 per month. However, Dish excluded from the basic bundle channels like Walt Disney's (DIS) ABC and CBS (CBS), making them available in add-on tiers with prices ranging from $4 to $10 each month.
This move appears to be an attempt to reduce the price of skinny bundles and attract new subscribers to pay-TV. Broadcast channels like Disney's ESPN are expensive to carry for pay-TV operators like Dish. The inclusion of broadcast networks like Disney's ESPN in a basic bundle would result in raising the cost of the bundle.
Article continues below advertisement
How is Dish's Flex Pack doing?
Dish was asked during the company's fiscal 3Q16 earnings call about its Flex Pack and whether there have been benefits yet from its launch. The company stated that Dish had launched the Flex pack to give Dish subscribers more choice when it comes to its pay-TV business, similar to the choice that a consumer has when viewing OTT (over-the-top) content.
Dish also stated that the Flex Pack is "more of a retention marketing tool than anything else" because "customers are increasingly saying [they] just can't afford to pay over $100 for video every month, particularly for channels [they] don't watch."
Reducing churn
Dish added that it expects the Flex Pack to reduce churn when it comes to its pay-TV subscribers. However, the Flex Pack had a limited effect in the third quarter due to Dish's affiliate fees dispute with Tribune Network.
As the above chart indicates, Dish Network's pay-TV subscriber base has been steadily declining for the past five quarters. As the pay-TV provider faces increasing competition from OTT (over-the-top) operators like Netflix (NFLX), it has been struggling to gain new subscribers. As the chart above shows, Dish had subscriber losses of 116,000 in fiscal 3Q16. At the end of fiscal 3Q16, Dish had 13.6 million pay-TV subscribers.