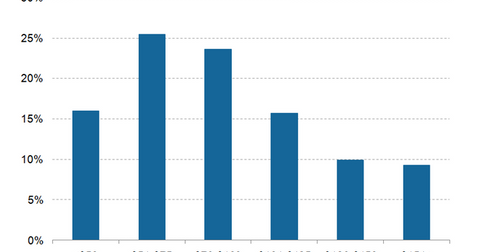 How Much Pricing Power Does Dish Network Have in Its Pay-TV Business?
By Shirley Pelts

Updated
Dish's pricing of its pay-TV business
One of the major reasons that viewers are cutting their cords with pay-TV providers like Dish Network (DISH) is high cable bills, which range from $50 to more than $100 per month. Meanwhile, the OTT (over-the-top) landscape has been a boon to players like Netflix (NFLX), whose plans average around $10 per month.
Dish was asked during its fiscal 3Q16 earnings call whether the company had "pricing flexibility" when it comes to its pay-TV business. The company stated that it believes that it's still the lowest-priced linear television network in the business.
Dish also stated that "We still skew a little bit more rural, where it's a little bit less competitive, so we still have a little bit of pricing power," adding that "the pricing power probably, at best, would make up for the price increases…from the content providers."
Dish noted as well that "it's going be a margin business that's going to fight some inertia" and that "there's going to become a limit to what the content providers can do on price increases."
Article continues below advertisement
Pay-TV versus over-the-top
A 2Q16 report from Digitalsmiths suggests that about 35% of users pay more than $100 per month to their pay-TV providers, as shown in the chart above. This adds further evidence to the probability that high cable bills are driving an increasing number of viewers to become cord-cutters and opt for OTT services.
Notably, the major players in the video streaming market right now are Netflix (NFLX), DishTV's (DISH) Sling TV, and Sony's (SNE) PlayStation Vue.