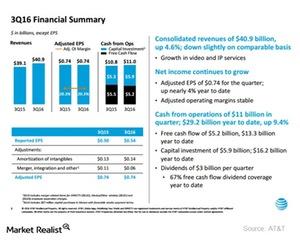 Insight from Dish: Will Trump Hinder Consolidation in the Media Industry?
By Shirley Pelts

Jan. 6 2017, Updated 9:05 a.m. ET
Dish's view of the Trump effect on consolidation
The media industry is being increasingly consolidated, as suggested by AT&T's (T) proposed acquisition of Time Warner (TWX) and CBS's (CBS) proposed merger with Viacom (VIAB). We should note, however, that discussions surrounding CBS's proposed merger with Viacom have since been canceled.
Dish Network (DISH) was asked at the company's fiscal 3Q16 earnings call whether it believes that this consolidation trend in the media industry be threatened by Donald Trump's Presidency. Dish stated that it will depend on "who's going to be heading up the Justice Department and who's going to be heading up the FCC" (Federal Communications Commission), noting that "the Republicans would have a lighter regulatory" approach.
Dish added that it expects that "there's going to be more flexibility in M&A transactions" in cases that don't "harm the public interest" and don't "violate anti-trust laws," though in some cases, "the regulation will be less or more or the same."
Article continues below advertisement
AT&T's proposed acquisition of Time Warner
In 2016, AT&T (T) announced a definitive agreement to acquire Time Warner (TWX) in a stock-and-cash transaction valued at $107.50 per Time Warner share. With its acquisition of Time Warner, AT&T would gain access to Time Warner's premium content, which could help it to distribute more overall content to its customers and third parties.
AT&T has been frustrated with the negotiations involved in acquiring content from content providers. If the company's acquisition of Time Warner is completed, this process would be seamless and less time consuming.