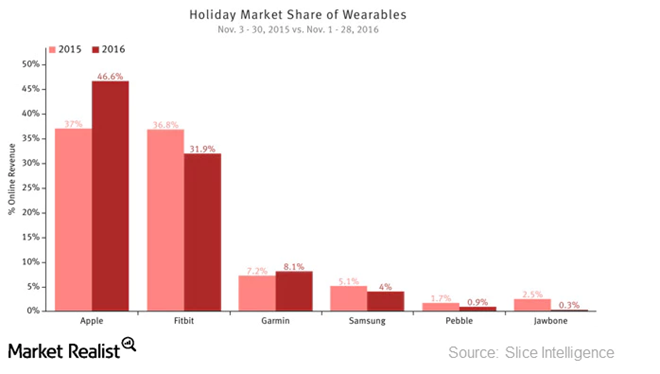 Fitbit and Its Competition: Who's Winning?
By Adam Rogers

Jan. 5 2017, Updated 1:05 p.m. ET
Lower sales growth
As we saw in the previous part of this series, Fitbit's (FIT) sales fell in 2016, driven by a slowing wearables market. In the company's 3Q16 earnings call, CFO (chief financial officer) Bill Zerella mentioned that overall sales are less than previously expected due to a softness in demand. He said, "We expected higher sales growth based upon a robust product portfolio."
Let's look now at Fitbit's peers. In 2016, Garmin (GRMN) focused primarily on product development and increased advertising spending to drive sales of its new products. That strategy positively impacted sales, and revenue from its fitness segment rose 32.0% YoY (year-over-year) in 3Q16.
Article continues below advertisement
Korea's (EWY) Samsung (SSNLF) and China's Xiaomi have focused on cost. They've targeted the low-end market with inexpensive products. These companies have also bundled smartwatches with smartphones and sold packaged deals to consumers. The low-cost products often attract youth since they're more sensitive to price fluctuations.
Apple leads in holiday market share for wearables
According to Slice Intelligence, Apple (AAPL) accounted for 46.0% of the online revenue generated in the wearables market during the 2016 holiday season. That compares to 37.0% at the end of the 2015 holiday season.
Apple's closest competitor, Fitbit (FIT), saw its market share fall from 36.8% in 2015 to 31.9% in 2016. Garmin (GRMN) gained traction in the 2016 holiday season, with its market share rising from 7.2% in 2015 to 8.1% in 2016. Samsung (SSNLF) was the fourth-largest player, despite falling revenue.
Revenue from the wearables market rose 10.0% YoY, outpacing revenue in the electronics segment for the 2016 holiday season.