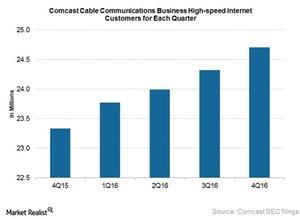 Comcast's Views on the Possible Rollback of Net Neutrality
By Shirley Pelts

Feb. 3 2017, Updated 10:35 a.m. ET
New chairman and rollback of net neutrality
Earlier this month, the Trump administration appointed Ajit Pai as the FCC's (Federal Communications Commission) chairman. On January 24, The Wall Street Journal reported that Pai may steer the FCC towards a deregulatory environment. The report also stated that Pai is likely to roll back some of predecessor Tom Wheeler's rules and regulations, such as net neutrality. The net neutrality principle has been subject to much debate. Net neutrality rules say that all Internet traffic should be treated equally. As video streaming becomes even more popular among Millennials, net neutrality rules are becoming important.
Article continues below advertisement
In its fiscal 4Q16 earnings call, Comcast (CMCSA) was asked about the possible rollback of net neutrality, as well as corporate tax reforms under the Trump administration. The company stated that it was positive on rules that are likely to encourage investment. It also said that it was looking forward to working with the Trump administration and framing rules and regulations that would be in the interest of consumers and provide new business opportunities for the company.
Change in net neutrality rules and Comcast
A rollback in net neutrality rules under Trump could bode well for Comcast. It could mean that Comcast would not have to worry about third-party claims from streaming services for damages due to slowing down Internet traffic. It could also result in Comcast promoting its IP[1.Internet protocol] streaming service, Stream, on its broadband network. There is also the possibility that Comcast could charge Netflix a higher interconnection fee, which could boost Comcast's revenue.
A core growth driver of Comcast's Cable Communications division in 4Q16 was its High-Speed Internet segment. Comcast's management is optimistic about the growth trajectory of this business. As the chart above shows, Comcast had 24.7 million high-speed Internet customers at the end of fiscal 4Q16.