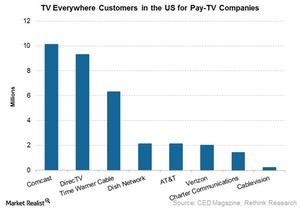 What's Comcast's Opinion of TV Everywhere?
By Shirley Pelts

Updated
TV Everywhere
The popularity of TV Everywhere has increased for many reasons. It provides convenience and schedule flexibility, but it also allows consumers to skip commercials and watch multiple episodes sequentially. The growth of TV Everywhere has directly benefited the growth of connected TV devices.
However, as online television services get ready to launch or are already being launched, questions are arising about TV Everywhere's popularity. Comcast (CMCSA) was asked about its opinion of TV Everywhere at the Wells Fargo Technology, Media & Telecom conference late in 2016.
Article continues below advertisement
According to the company, its foremost strategy is to make content available to its viewers regardless of their devices. Currently, Comcast streams ~130 television networks as part of its TV Everywhere strategy. The company also stated that its Xfinity app is currently being used by around half of its video and high-speed Internet subscribers.
Comcast also stated that it currently provides authentication for TV Everywhere on over 20 electronic devices, and it's also providing automatic in-home authentication.
According to a CED report from 2016 citing a research report from Rethink Research, Comcast had 10.1 million TV Everywhere subscribers. In contrast, as the graph above shows, DIRECTV had 9.3 million TV Everywhere subscribers, and Time Warner Cable had 6.3 million subscribers. Dish Network (DISH) and AT&T (T) had 2.1 million TV Everywhere subscribers each.
Time Warner's view of TV Everywhere
Time Warner (TWX) was also asked about this trend on its 3Q16 earnings call. A company executive explained, "On TV Everywhere, let's – if I could remember what that is, that's about more VOD and it's about better interfaces. And what we've had is we've had a kind of, I think we all know this."
The executive continued, "We've had not as fast an adoption by all the distribution platforms of full VOD offerings across all networks, good interface to find the network, easy authentication. This will help speed that up and it'll make yet another platform and interface available to all networks and therefore give a national offering for consumers increasing."