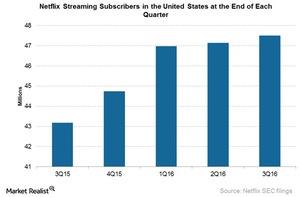 Why CMCSA Sees the Integration of Netflix on X1 as a Good Fit
By Shirley Pelts

Updated
Comcast intends to integrate other products
Last year, Comcast (CMCSA) entered into an agreement to provide Netflix (NFLX) on its Xfinity X1 set-top boxes, and Netflix became available on the X1. Comcast hasn't ruled out the possibility of integrating other products or services on the X1.
The company stated at the 2016 Wells Fargo Technology, Media & Telecom conference that with the integration of Netflix, it intends for the X1 platform to be an aggregator of content, giving its viewers more choices.
Comcast also said that its integration of Netflix indicated that it had the technical capability to integrate over-the-top services on the X1. It also said that Netflix complemented its pay-TV services.
Article continues below advertisement
Comcast explained its rationale behind the deal with Netflix at the Nomura Media, Telecom & Internet Conference last year. It said it viewed the deal as beneficial for its Xfinity X1 customers. It added that the deal would allow Comcast to offer popular content not only on its own but also from third-party sources such as Netflix.
Netflix's reasoning for the integration
Netflix stated at the 2016 Goldman Sachs Communacopia Conference that the important part of its deal with Comcast would be the convenience it offers consumers. The company added that it's better to integrate OTT (over-the-top) services on the set-top boxes of pay-TV providers such as Comcast, because it could keep pay-TV subscribers in the linear television ecosystem rather than see them cut the cord on pay TV.
At the end of 3Q16, Netflix had total domestic memberships of 47.5 million.