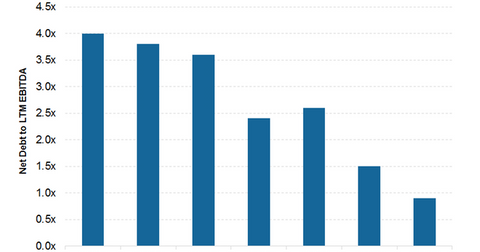 Is Coeur Mining's Financial Leverage Becoming Less of a Concern?
By Anuradha Garg

Jan. 11 2017, Updated 7:36 a.m. ET
Strengthening the balance sheet
Coeur Mining (CDE) repaid $109.3 million of its debt in 3Q16. After that, its interest expenses fell 26.0% quarter-over-quarter and 35.0% year-over-year. Over the past 12 months, Coeur Mining's debt has fallen more than 25.0%, or ~$400.0 million.
Article continues below advertisement
Declining financial leverage
As you can see in the above graph, Coeur Mining's net debt-to-EBITDA (earnings before interest, tax, depreciation, and amortization) ratio was 3.6x at the end of 3Q15. It fell to 0.90x at the end of 3Q16, a 75.0% improvement. Going forward, margins could expand further if the outlook for precious metal prices remains bright and the focus remains on improving grades, enhancing recoveries, and containing costs.
These factors could help improve its financial leverage going forward. Coeur Mining's liquidity position remains comfortable, with $223.0 million in cash at the end of 3Q16.
Further upside
On November 16, 2016, the company announced that it has completed its at-the-market (or ATM) common equity offering worth $200.0 million.
Coeur intends to use the net proceeds from this offering to redeem $190.0 million of the aggregate principal amount of its senior notes due in 2021. It announced that the redemption date would be December 16, 2016.
Mitchell J. Krebs, Coeur's CEO (chief executive officer), mentioned in the press release following this announcement, "With the completion of our ATM equity offering and expected further reductions in our remaining debt levels, we plan to end the year with one of the stronger, more flexible balance sheets in the sector."
Krebs noted during the 3Q16 earnings call that assuming the company is successful in this initiative, its debt at the end of 2016 should be below $200.0 million. He said the company should also have a net cash position at the end of the year, which would also cause its interest expenses to fall significantly.
At the start of 2016, the company's interest expenses totaled $42.0 million. Assuming the completion of the equity transaction, its interest expenses would be closer to $15.0 million.
Coeur Mining is not the only precious metal miner (GDX) to take advantage of rising share prices and to offer equity. Kinross Gold (KGC) issued $288.0 million in equity in February 2016.
First Majestic Silver (AG) also offered equity in 2016 with the intention of using the proceeds for development and exploration activities. Iamgold (IAG) turned to equity markets with a bought deal for 38.9 million shares to raise $200.0 million.