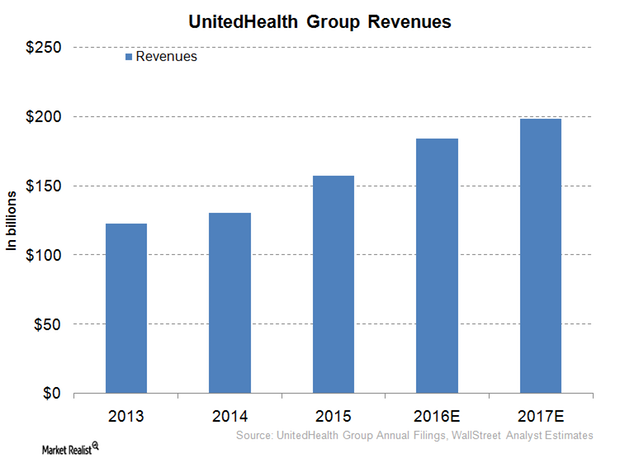 Celgene Estimates Robust Revenue in 2017
Robust revenue performance
In 2017, Celgene (CELG) expects to earn revenues of $13.0 billion–$13.4 billion. That would be a YoY (year-over-year) growth of around 18.0%. The growth rate is calculated by using the midpoint of the revenue guidance range for 2016 and 2017.
The company has projected 2017 GAAP (generally accepted accounting principles) EPS (earnings per share) of $5.85–$6.21. That projection doesn't consider future transactions, probable losses, and impairments.
Celgene has also estimated 2017 non-GAAP adjusted diluted EPS of $7.10–$7.25, a YoY growth of about 21.0%.
Wall Street analysts have projected that in 2017, Celgene's revenue will reach ~$13.2 billion, a YoY rise of ~16.9%. That projection is in line with the company's 2017 revenue guidance.
For 2017, peers such as Amgen (AMGN), Biogen (BIIB), and Gilead Sciences (GILD) are expected to earn revenues of $23.4 billion, $12.0 billion, and $28.2 billion, respectively. To look at Celgene's revenue projections for 2016, please refer to Celgene Expects Strong Revenue Growth in 2016.
If Celgene surpasses these revenue projections in 2017, it may have a positive impact on its stock. It would also affect the PowerShares QQQ ETF (QQQ). Celgene makes up about 1.6% of QQQ's total portfolio.
Article continues below advertisement
Other estimates
For 2017, Celgene expects its GAAP operating margin to be about 45.5%. Its 2017 adjusted operating margin is estimated at 56.4%, which will be a rise of about 150 basis points YoY.
Based on its 2017 guidance, Celgene is confident it will achieve its long-term financial targets. The company expects its 2020 revenue to be more than $21.0 billion and adjusted diluted EPS to be more than $13.
In the next part of this series, we'll look at long-term growth prospects for Celgene's drug Revlimid.