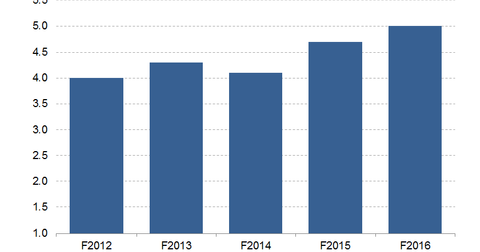 Can Nvidia Prove Critics Wrong?
By Ruchi Gupta

Jan. 18 2017, Published 3:06 p.m. ET
Citron claims Nvidia stock isn't worth more than $90
Citron Research, a noted short seller, is predicting that Nvidia's (NVDA) share price will crash in 2017 to $90. But Nvidia was one of the best-performing stocks in the S&P 500 in 2016, having risen from $33.34 at the beginning of 2016 to $117.32 by the end of December, according to a Wall Street Journal report. Of course, Citron's prediction has caused a stumble in the stock since then.
According to Citron, Nvidia faces significant competition from Intel (INTC) and Advanced Micro Devices (AMD) in the data center market, and the company has lacked growth in new markets.
Article continues below advertisement
Citron also sees Nvidia's position as a fabless producer as putting it at a disadvantage—especially against Intel, which could easily undercut it through the competitive pricing of chips. Citron also claims Nvidia's customers, including Apple (AAPL) and Alphabet's (GOOGL) Google, are gradually turning into its competitors as they develop certain chips internally.
Is the picture so grim for Nvidia?
While fierce competition has existed in semiconductor chips market for a long time, Nvidia has consistently raised its revenues over the years. The company has largely fended off competition pressure by continually upgrading its portfolio of graphic processors, and last year Nvidia unveiled Tesla P100 that it said is a high-performance chip featuring 15 billion transistors packed on a piece of silicon.
Nvidia is eyeing corporate data centers with the Tesla P100, and clearly, the company is aggressively vying for a piece of the autonomous driving market. The company used the CES 2017 event to show off two self-driving cars built using its technology—a sign that it's ready to take on Alphabet, Intel, Apple, and others.
While traditional automakers Ford Motor (F) and General Motors (GM) are developing their driverless technologies in-house, Nvidia could persuade them to use its ready-made autonomous driving technology and solutions, allowing Nvidia to unlock new growth outside its traditional markets.