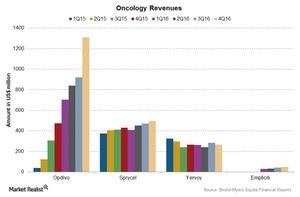 Bristol-Myers Squibb's Strong Oncology Segment
By Mike Benson

Jan. 30 2017, Updated 3:05 p.m. ET
Oncology segment
With the strong performance of Opdivo, Bristol-Myers Squibb's (BMY) oncology segment emerged as its largest revenue contributor in 4Q16. The segment accounted for ~40.3% of the company's total revenues. Some key products for this segment include Opdivo, Empliciti, Yervoy, and Sprycel. Let's take a look at each of these drugs and their performances.
Article continues below advertisement
Opdivo
Opdivo (nivolumab) is a human PD-1 blocking antibody (a compound that blocks the interaction between PD-1 protein and its ligands). It's used in lung cancer and melanoma treatments. Opdivo is part of BMY's alliance with Ono Pharmaceutical. It's the seventh drug since 2011 to get FDA (U.S. Food and Drug Administration) approval for the treatment of melanoma. Opdivo reported sales of $1.3 billion in 4Q16. What does Bristol-Myers Squibb expect from Opdivo? We'll take a look at that in the next part of this series.
Empliciti
Empliciti, a new oncology drug, was launched in US markets in December 2015 and in European markets in May 2016. The drug reported revenues of $47.0 million in 4Q16.
Article continues below advertisement
Erbitux
In October 2015, BMY transferred manufacturing and marketing rights of Erbitux for North America to ImClone Systems, a wholly-owned subsidiary of Eli Lilly (LLY).
Sprycel
Sprycel, an oral inhibitor, reported a rise of ~15.0% to $494.0 million in 4Q16 revenues compared to 4Q15. That followed an increased demand for the drug in US markets.
Yervoy
Yervoy is a monoclonal antibody used to treat melanoma. Yervoy revenues remained constant in 4Q16 at $264.0 million, compared to $265.0 million for 4Q15. Revenues rose 23.0% in US markets, offset by a 39.0% fall in international revenues due to competition.
Merck & Co.'s (MRK) Keytruda (pembrolizumab), a PD-1 blocker, received FDA approval in 2014 for the treatment of melanoma. It's a better first-line therapy than Yervoy, thus impacting Yervoy sales.
You can consider investing in the PowerShares Dynamic Large Cap Growth ETF (PWB), which holds 2.8% of its total assets in Bristol-Myers Squibb. PWB also holds 3.5% of its assets in Eli Lilly and Co. (LLY) and 3.0% in Celgene (CELG).