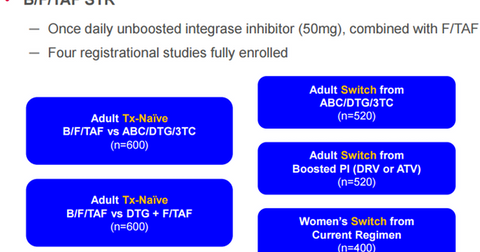 Bictegravir-Based STR Expected to Strengthen Gilead Sciences's HIV Franchise
By Margaret Patrick

Updated
Bictegravir-based single-tablet regimen
Gilead Sciences (GILD) is currently studying a novel integrase inhibitor, bictegravir, in combination with emtricitabine (or FTC) and tenofovir alafenamide (or TAF). This treatment is intended for patients who have human immunodeficiency virus -1 (or HIV-1).
Gilead Sciences (GILD) is confident about the superior clinical profile of this single-tablet regimen (or STR). Further, the company expects it to become one of the most convenient HIV therapies on the market.
Article continues below advertisement
A high barrier to resistance is expected to enable this combination regimen to be used by many switch patients who have developed resistance to existing regimens. The STR is also expected to demonstrate minimal drug-to-drug interactions, which could result in higher preference for the regimen by the physician and patient communities.
If bictegravir-based STR can meet these expectations, it may have a positive impact on Gilead Sciences stock and the iShares Core S&P 500 ETF (IVV). Gilead Sciences makes up ~0.47% of IVV's total portfolio holdings.
Gilead Sciences is exploring bictegravir-based STR in treatment-naïve patients as well as in patients switching from their current regimens. This investigational regimen is expected to enable Gilead Sciences compete more effectively with other HIV players such as Pfizer (PFE), Johnson & Johnson (JNJ), and GlaxoSmithKline (GSK).
Pre-exposure prophylaxis
Gilead Sciences (GILD) is actively involved in creating awareness in government organizations for the increased use of pre-exposure prophylaxis (or PrEP) drugs. Prevention of HIV infection is expected to help lower overall healthcare costs in US.
Truvada is the only drug approved in the US for the prevention of HIV. It is currently used by 80,000–90,000 patients in the US. In addition to expanding Truvada's addressable market by increasing PrEP awareness, Gilead Sciences is also exploring Descovy in Phase 3 trials as an option to prevent HIV infection.
In the next article, we will explore Gilead Sciences's hepatitis C strategy in greater detail.