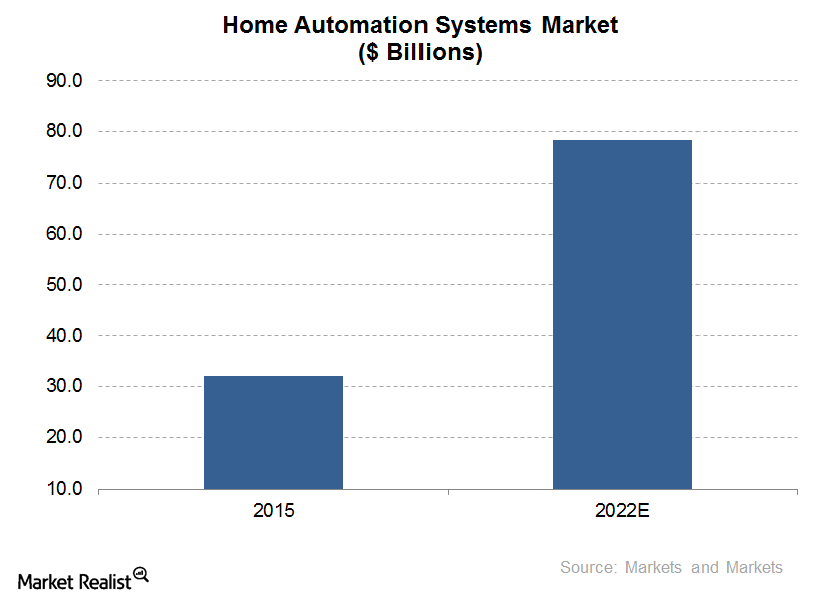 Battle for the Home Automation Market
The battle between Google and Amazon
Alphabet's (GOOGL) Google and Amazon (AMZN) are going for each other's jugular in the home automation systems market. Google has Google Home, and Amazon has Amazon Echo.
The home automation systems market that Google and Amazon are vying for is forecast to be worth $78.3 billion by 2022. The market was worth $32.1 billion in 2015, according to Markets and Markets.
Article continues below advertisement
Google has a long way to catch up
Before Google can control the home automation market, it must first catch up with Amazon, which is enjoying the advantage of being an early mover. Amazon launched its first Echo in 2014 and has sold more than 5.0 million units. Echo costs $180, although it debuted at $100 and was initially only available for invited purchasers.
Google Home, which launched in October 2016, is competitively priced at $130. But the price discount alone is unlikely to help Google's success in the home automation market. Impressive features could make a difference.
Google Home matches Echo in almost all core functions such as implementing verbal commands. But the market expected Google, with its trove of search data, to launch a more powerful home automation device out of the gate. That didn't happen, and Google seems focused on making ongoing incremental improvements on the device. The company recently opened the Google Home platform to third-party developers to create products that can work with the hub.
Amazon has not only opened its Echo platform to outside developers, but it has also consistently added more features to the device. Those factors have made Echo more popular.
Google is facing competition from Facebook (FB), Twitter (TWTR), and LinkedIn (LNKD) for digital ad spending. It's thus under pressure to prove it can leverage its rich search data to make Google Home the standard home automation system. But the company has a lot of heavy lifting to do in order to hit that target.