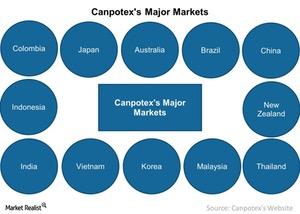 POT's, MOS's, and AGU's Canpotex: The Backstory
By Adam Jones

Updated
Background
Canpotex is a potash marketing and logistics company owned by three major global agricultural fertilizer producers: PotashCorp, or Potash Corporation of Saskatchewan (POT), Agrium (AGU), and Mosaic (MOS). Through Canpotex, these three companies make potash available to over 60 countries around the world.
Article continues below advertisement
Major markets served
The above chart shows the major markets where Canpotex markets and distributes potash products. Potash produced in Saskatchewan is transported to customers through railcars and ships. Canpotex thus has an in-house department with experts in ocean transportation.
The company also has storage facilities and railcars for storing and transporting potash products. Notably, according to Canpotex, "together, the countries in Canpotex markets contain approximately 60% of the world's population."
Services provided
To serve the demand of customers in its respective countries, Canpotex has deployed resources that can help stir demand for potash products. The company states on its website that "farmer education, market development, and a hands-on approach to customer service are key to our core values as a company." The company also engages in new market development.
While Israel Chemicals (ICL) is also a producer of potash products (MOO), it's not a part of the Canpotex. In the next part, we'll look at the available sites where Canpotex sources its potash products, including both mines and its location in Saskatchewan, Canada.