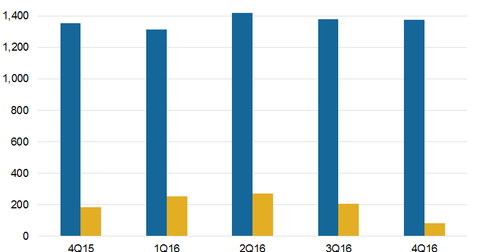 AXP's International Business Impacted by Spending, Dollar
By Robert Karr

Updated
Strong dollar impacting growth
American Express's (AXP) International Card Services segment's revenue rose 2% to $1.4 billion in 4Q16, compared to $1.3 billion in 4Q15. On a constant currency basis, the segment's revenue rose 7%, reflecting the negative impact of the strong US dollar.
Because the Federal Reserve raised interest rates for the second time in 4Q16 and hinted at further rate hikes in 2017, the trend of a strong dollar is expected to continue at least in 1H17.
Amex's International Card Services segment accounted for 17% of its total revenue in 4Q16, compared to 18% in the previous quarter. This rise in revenue was mainly due to higher international spending and net card fees.
Amex's International Card Services segment posted net income of $84 million in 4Q16, a fall of 40% compared to $140 million in the prior year's quarter. The fall was mainly due to higher investment spending on growth initiatives. The segment saw a 19% rise in its provision for losses to $92 million, compared to $77 million in 4Q15. The rise reflected higher lending net write-off rates.
Amex posted a net profit of $5.4 billion in 2016. The company's competitors in the industry had the following net profits:
Discover Financial Services (DFS): $2.3 billion
MasterCard (MA): $3.6 billion
Visa (V): $5.4 billion
Together, these companies make up 2.0% of the iShares Core S&P 500 ETF (IVV).
Expenses rise on spending
American Express's International segment saw a rise of 10% in its total expenditure to $1.2 billion in 4Q16, compared to $1.1 billion in 4Q15. On a constant dollar basis, its expenses rose 14% over the previous year, more than the rise in its revenue. The segment's 4Q16 expenses rose on higher investment spending, growth initiatives, and restructuring charges.
AXP's International segment's card billed business rose 7% in 4Q16 to $88.8 billion, largely due to higher spending. Its cards in force rose 4% to 62.4 million, compared to 60.2 million in 4Q15.
Next, let's study the performance of American Express's Global Commercial Services segment.
Article continues below advertisement