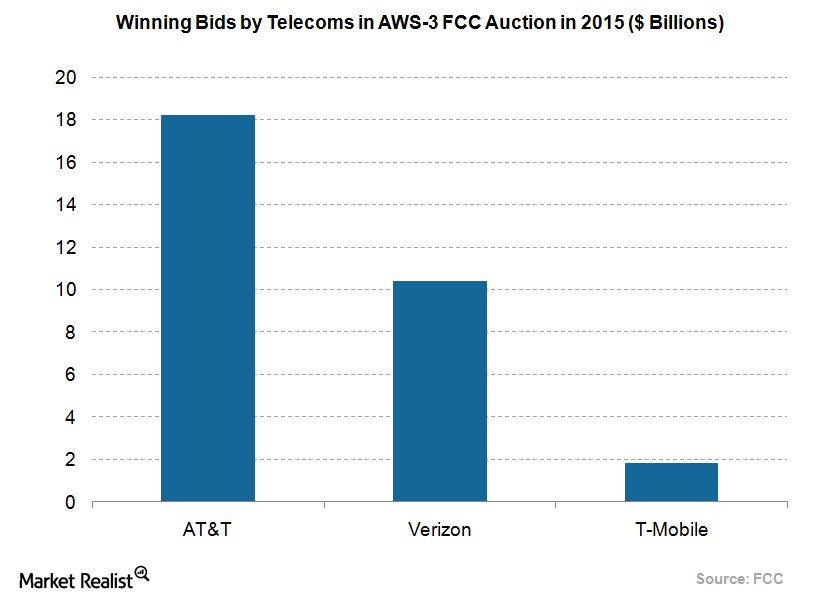 AT&T's 5G Segment: Progess Continues
By Ambrish Shah

Dec. 4 2020, Updated 10:52 a.m. ET
AT&T on 5G
AT&T's (T) progress in the 5G space continues. AT&T is enthusiastic about the future of 5G technology, which should improve data speeds. It should also improve capacity and latency relative to the current 4G LTE path by aggregating the spectrum into larger blocks and taking advantage of new antenna technology.
According to a FierceWireless report on January 4, 2017, "In fact, we expect to begin reaching peak theoretical speeds of up to 1 Gbps at some cell sites in 2017," AT&T claimed. "We will continue to densify our wireless network this year through the deployment of small cells and the use of technologies like carrier aggregation, which increases peak data speeds. We're currently deploying three-way carrier aggregation in select areas, and plan to introduce four-way carrier aggregation as well as LTE-License Assisted Access (LAA) this year."
AT&T is committed to innovating around mobile-first video services. As a result, AT&T will be testing DirecTV Now over 5G in Austin in 1H17. AT&T is working on its 5G initiative with Nokia (NOK), Ericsson (ERIC), Intel (INTC), and Samsung (SSNLF).
Article continues below advertisement
AT&T is an aggressive player in the 5G market
AT&T has been an aggressive player in the 5G market. Even in the past, it has tried to outbid rivals in order to gain spectrum advantage. AT&T was the highest bidder during the AWS-3 spectrum auctions in early 2015 and purchased spectrum worth $18.2 billion. The AWS-3 spectrum auction was the major auction conducted by the FCC (Federal Communications Commission) after 2008. As the above graph shows, Verizon (VZ) and T-Mobile (TMUS) also participated in that auction and made a winning bid of $10.4 billion and $1.8 billion, respectively.
AT&T's 4G LTE footprint covers more than 380 million people in North America. This large coverage should also help AT&T become an important player in the 5G market.