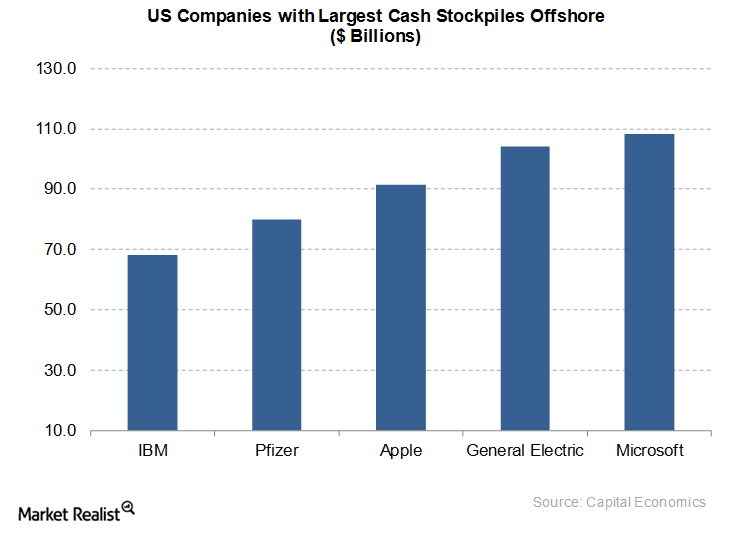 What's behind Apple's Ireland Tax Dispute?
By Ruchi Gupta

Jan. 3 2017, Updated 4:35 p.m. ET
The EU is seeking $13.6 billion from Apple
Apple (AAPL) could be forced to part with $13.6 billion in back taxes if the European Union (or EU) proves Ireland illegally offered Apple special tax treatment for more than a decade. Both Apple and Ireland have disputed the EU's tax claims.
But the whole tax dispute appears to be a signal of increasing tension over massive profits that US companies have stockpiled in overseas accounts. Estimates differ on how much money American companies are holding abroad, but Capital Economics' latest figures put the amount at $2.5 trillion. Microsoft (MSFT), General Electric (GE), and Apple have the largest stockpiles.
Article continues below advertisement
Prospects of a lower corporate tax
These companies have stored away profits from overseas operations because they are trying to avoid the nearly 40% tax penalty on repatriated profits. But as Donald Trump prepares to take over the White House, hope has grown that Apple and its peers could benefit from a special corporate tax break that would enable them to bring their offshore cash into the US at a lower tax rate of ~10%. Apple has signaled it could take advantage of a tax break to repatriate its overseas profits.
But before Apple and its peers begin pulling their cash from Europe and other overseas markets, the EU is beginning to ask the tough questions. Is Apple fully paid up?
In response to the EU's claim, Ireland has said the European Commission, the executive arm of the EU, misinterpreted its tax law in arriving at the conclusion that the country and Apple had a secret tax agreement.
The EU alleges that Ireland allowed Apple to allocate profits generated in the country to a unit whose tax residence can't be traced in the EU. As a result, Apple only paid 1%, sometimes less, in taxes on profits generated from its Ireland operations. Besides Apple, the EU is scrutinizing tax practices of other US companies including Amazon (AMZN) and McDonald's (MCD).