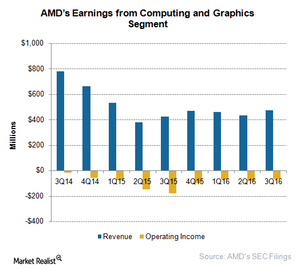 Will AMD's Computing Segment Continue to Deter Growth?
AMD's computing segment
Advanced Micro Devices (AMD) is looking to maintain positive operating margins in 4Q16 and 1Q17. Most of its margin should come from its EESC (enterprise, embedded, and semi-custom) business, while its CG (computing and graphics) business could continue to post losses due to strong competition from Intel (INTC) and NVIDIA (NVDA).
AMD's CG business offers CPUs (central processing units), GPUs (graphics processing units), and APUs (accelerated processing units) for PCs and notebooks.
Article continues below advertisement
CG's earnings trend
AMD's CG business has been posting losses since 3Q14, as it's been losing shares in the GPU and CPU markets to NVIDIA and Intel. However, its revenue picked up slightly in 3Q15 and 4Q15 after it created Radeon Group to focus on designing GPUs to compete with NVIDIA. At this time, AMD gained market share in the GPU space. We'll look into CG's graphics segment in the next part of the series.
Let's now look at the computing segment. In the PC space, AMD lagged behind Intel in terms of the advanced process nodes. According to PassMark, Intel commands 80% of the desktop CPU market, market whereas AMD commands 20%. Even with this 20%, AMD has the lion's share in terms of low-end PC processors.
CG's earnings estimate for 4Q16
Global PC shipments have been falling since 2011. According to Gartner, global PC shipments fell 6.2% YoY (year-over-year) in 2016, and according to IDC (International Data Corporation), shipments fell 5.7% in 2016. However, signs of stabilization were seen in 4Q16 as IDC reported just a 1.5% fall in PC shipments. PC shipments of Hewlett-Packard (HPQ) and Dell rose 6.6% and 8.2%, respectively, during the quarter.
AMD supplied its PRO series APUs for Hewlett-Packard and Lenovo's business PCs in 4Q16. These high-margin APUs could help AMD to improve its computing revenue and narrow its losses in 4Q16.
PC market outlook
However, AMD has failed to achieve its objective of making its CG business profitable. Relying on the low-end PC processor market isn't working for AMD, as it requires high-volume sales, and getting these sales in a falling PC market is difficult. For this reason, AMD is now changing its strategy and focusing on high-end PC processors. It will launch its Ryzen-based high-end desktop processor, Summit Ridge, in 1Q17.
Early demonstrations show that Summit Ridge is competitive with Intel's Broadwell processor. However, its success depends on its pricing and placement. If Ryzen succeeds in securing a significant market share in the desktop processor market, AMD's computing segment's earnings could see a boost.