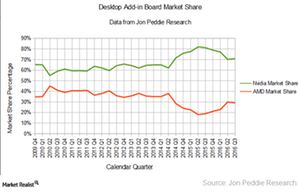 AMD versus NVIDIA: Competition to Go beyond Gaming in 2017
By Puja Tayal

Updated
AMD versus NVIDIA
Advanced Micro Devices (AMD) is set to launch its much-awaited Zen processor, which could help it to compete with Intel (INTC) in the high-end PC and server space. AMD is also looking to make its mark in the graphics space and win back the market share it lost to NVIDIA (NVDA).
Article continues below advertisement
AMD and NVIDIA in the desktop GPU market
AMD managed to improve its desktop GPU (graphics processing unit) market share in 1H16. However, its revolutionary Polaris GPU, built on Samsung's (SSNLF) 14nm (nanometer) node, couldn't compete with NVIDIA's Pascal GPUs in terms of performance. Despite this setback, AMD managed to retain its market share above 29%, as it made Polaris GPUs available at the low price of $200, making them affordable for mainstream consumers. Now, NVIDIA has also launched low-end GPUs, giving tough competition to AMD.
While Intel and NVIDIA are entering the low-end market, AMD is entering the high-end market. 2017 could see the launch of some next-generation products at good prices as the race for market share intensifies.
AMD is set to launch its Vega 10 GPU in early 2017. It will have a performance of 12 teraflops (floating point per second) and should compete with NVIDIA's GTX 1080, which has a 10-teraflop performance. AMD is also set to launch the Vega 11 and the Vega 20 later in 2017. Meanwhile, NVIDIA plans to launch its Volta GPU in 2H17.
Article continues below advertisement
AMD and NVIDIA in the game console market
At present, AMD and NVIDIA GPUs compete in the gaming segment. Now, NVIDIA is entering the game console market, which is dominated by AMD. NVIDIA has secured an order from Nintendo to supply its Tegra processors for the upcoming Nintendo Switch console.
AMD and NVIDIA in the deep learning market
AMD and NVIDIA will also compete in the deep learning space, as they are the only two discrete GPU providers. In deep learning, data centers use discrete GPUs as accelerators to undertake deep learning workloads. AMD has secured an order from Google (GOOG) to deploy GPUs to accelerate the performance of the latter's Compute Engine and the Google Cloud Machine.
Another area in which competition could be tough is the memory market. We'll look into this in the next part of the series.