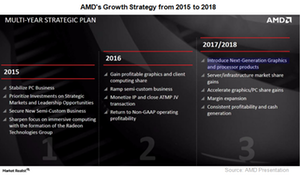 Did AMD Meet Its Strategic Goals for 2016?
By Puja Tayal

Updated
2016 was a good year for AMD
2016 was a good year for Advanced Micro Devices (AMD) as it rebounded after nearing bankruptcy. AMD's stock was the top performer among semiconductor stocks, with a 309.4% rise in 2016. Rival NVIDIA (NVDA) followed with a 229.7% rise. Intel's (INTC) stock remained unchanged, with a few ups and downs throughout the year.
While some analysts are skeptical about whether AMD's stock can grow further, others believe that the stock has strong growth potential in 2017 as things improve for it and the industry as a whole.
Article continues below advertisement
AMD achieves most of its strategic goals for 2016 
AMD's 2016 has come to an end, and the company is likely to release its 4Q16 earnings in mid-January 2017. If we look at the company's strategic goals for 2016, it has achieved three out of four of them:
AMD ramped up its semi-custom business and secured three design wins, two for Microsoft's (MSFT) and Sony's (SNE) game consoles and one for an ARM-based console. However, it lost Nintendo's business to NVIDIA.
AMD monetized its x86 processor and SoC (system-on-chip) IP (intellectual property) by entering into a $293 million licensing joint venture with public and private Chinese (MCHI) companies. The deal brought much-needed cash, giving AMD the flexibility to invest in new products.
AMD returned to non-GAAP (generally accepted accounting principles) operating profit in 3Q16, posting an operating margin of 5.4%. However, this profit came solely from the embedded, enterprise, and semi-custom businesses. Its graphics and computing business continued to report losses. A similar scenario is likely in 4Q16 as well.
Strategic goals for 2017
Now, AMD is aimed at meeting its 2017 objectives by making its comeback in the high-end graphics and computing market. AMD's CEO, Lisa Su, has streamlined the company's focus on advanced technology in fast-growing markets. She's optimized the CPU (central processing unit) and GPU (graphics processing unit) roadmap for the computing business, which has leveraged Global Foundries' 14nm (nanometer) process node to develop a next-generation CPU and GPU.
AMD recently unveiled its next-generation GPU, Vega, which it plans to launch in 1H17. It also unveiled its much-awaited Ryzen CPU, which it plans to launch in 1Q17. By targeting high-end markets, AMD aims to improve its margins and cash flows.
In this series, we'll see what figures AMD could post in its 4Q16 earnings and the steps it's taking to boost growth in 2017.