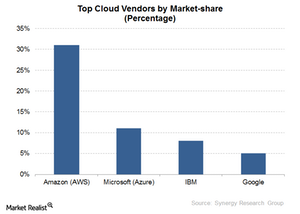 Is Alphabet Making Progress in the Cloud Space?
By Neha Gupta

Updated
Google turns disruptive in the cloud
Alphabet (GOOGL) is still playing catch-up with Amazon (AMZN) and Microsoft (MSFT) in cloud computing market. However, since hiring Diane Greene to lead its cloud efforts in late 2015, Google has become disruptive to its incumbents.
At one point in 2016, Google raided Amazon by persuading Apple (AAPL) to shift a portion of its cloud spending from AWS (Amazon Web Services) to its Google Cloud Platform, according to Business Insider.
Article continues below advertisement
Can Google leverage AI to boost cloud gains?
Alphabet is betting on artificial intelligence-powered web services to increase the appeal of its cloud platform. However, as Alphabet races to catch up with cloud leaders Amazon and Microsoft, it's also watching its back. Oracle (ORCL) and International Business Machines (IBM) have also recently become aggressive in terms of spending in the cloud computing space.
Investors will be scrutinizing Alphabet's 4Q16 earnings report for clues on the progress the company is making in the cloud space. Investors and analysts will be interested to hear whether the company is winning more cloud customers and how it's enriching its cloud platforms to make them sticky for existing customers and appealing to new ones.
Although Alphabet doesn't report its cloud revenue, the company said that revenue in the unit in which Google Cloud falls rose 39% to $2.4 billion in 3Q16, with Chief Financial Officer Ruth Porat saying that the cloud business registered substantial revenue growth in the quarter, according to Bloomberg. Amazon, on the other hand, said AWS's revenue rose 55% to $3.2 billion in 3Q16.