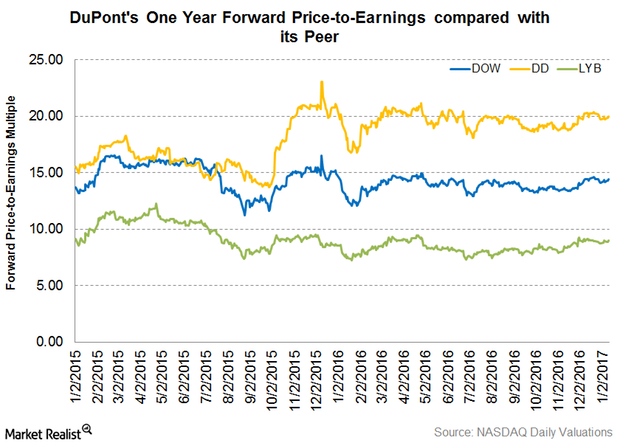 A Quick Look at DuPont's Valuation ahead of Its 4Q16 Earnings
DuPont's forward price-to-earnings
In this article, we'll analyze DuPont's (DD) valuation compared to its peers'. Forward PE (price-to-earnings) is a relative valuation method. It considers a company's future earnings.
On January 18, 2017, DuPont was trading at a one-year forward PE of 19.80x compared to its peers Dow Chemical (DOW) and LyondellBasell (LYB). DOW and LYB were trading at one-year forward PEs of 14.40x and 9.20x, respectively.
Article continues below advertisement
The forward PE ratio tells us how much investors are paying for a stock per dollar of its expected earnings in the next 12 months. It's one of the most popular valuation tools, as it helps investors to compare two or more companies that operate in the same industry. Investors can use it to see if a stock is overvalued or undervalued.
DuPont is trading at a higher valuation than its peers
At present, DuPont is trading at a premium to its peers Dow Chemical and LyondellBasell. In the past two years, all three companies have struggled with revenue growth.
Dow Chemical, with its acquisition and its joint ventures, expects its revenue to rise in the near future. LyondellBasell's 2016 revenue took a hit due to its unusually high maintenance in the year. It's projected to post better revenue in 2017 due to better operating capacity. DuPont, with its better 3Q16 earnings, expects its revenue growth to continue in the near future.
DuPont has a better net income margin than its peers due to its cost-saving measures. DuPont is expected to post a net income margin of 11.4% in 2016, while Dow Chemical is expected to post a net income margin of 9.5%. With a $1 billion in synergies expected out of the Dow Chemical–DuPont merger, these companies' margins are expected to strengthen.
Investors can indirectly hold DuPont by investing in the iShares U.S. Basic Materials ETF (IYM). IYM has invested 12.6% of its portfolio in DuPont as of January 18, 2017. The fund's other top holdings include Monsanto (MON) and Praxair (PX) with weights of 9.5% and 6.7%, respectively.