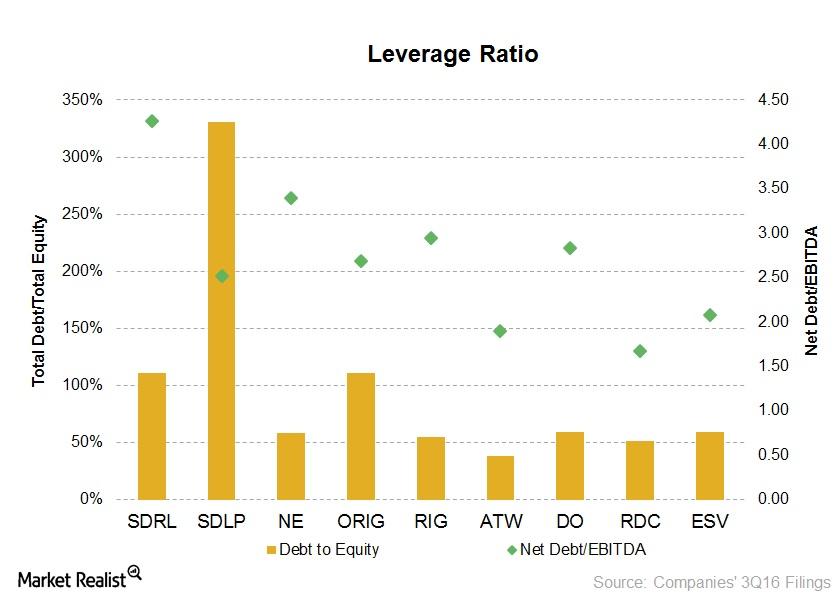 A Look at the Financial Health of Offshore Drillers
By Sue Goodridge

Jan. 13 2017, Published 12:00 p.m. ET
Leverage ratio
Offshore drilling (IYE) companies are capital-intensive, so it's important to look at their financial leverages. The debt-to-equity and net debt-to-EBITDA (earnings before interest, tax, depreciation, and amortization) ratios show these companies' financial leverages. The higher the ratio, the higher financial leverage and financial risk.
Article continues below advertisement
Positives and negatives of debt
Debt acts as a lever, magnifying both gains and losses. Companies that have high debt in poor times have a greater chance of going bankrupt. But high leverage can also be positive if those companies survive.
Debt has a fixed cost, and with an increase in revenues, profits increase by a higher percentage. Also, issuing debt instead of equity doesn't dilute shares. The cost of debt interest is a tax-deductible expense, which reduces a company's tax burden.
The offshore drilling environment remains challenging. Most companies expect this situation to continue for the next year or two. It's better for companies to try to reduce debt in their total capital structure.
Highly leveraged companies
Seadrill Partners (SDLP) has the highest debt-to-equity ratio of 331.0% at the end of 3Q16. That's lower than its fiscal year debt-to-equity ratio of 398.0%. Although the company has a high leverage, its net debt-to-EBITDA ratio of 2.5 isn't very high compared to its peers. Seadrill's (SDRL) net debt-to-EBITDA ratio of 4.3 is the highest among its peers. It also has a high leverage ratio of 111.0%.
Ocean Rig (ORIG) also has a high debt-to-equity ratio of 111.0%. It's worth noting that if industry fundamentals remain weak, companies with high leverages typically underperform.