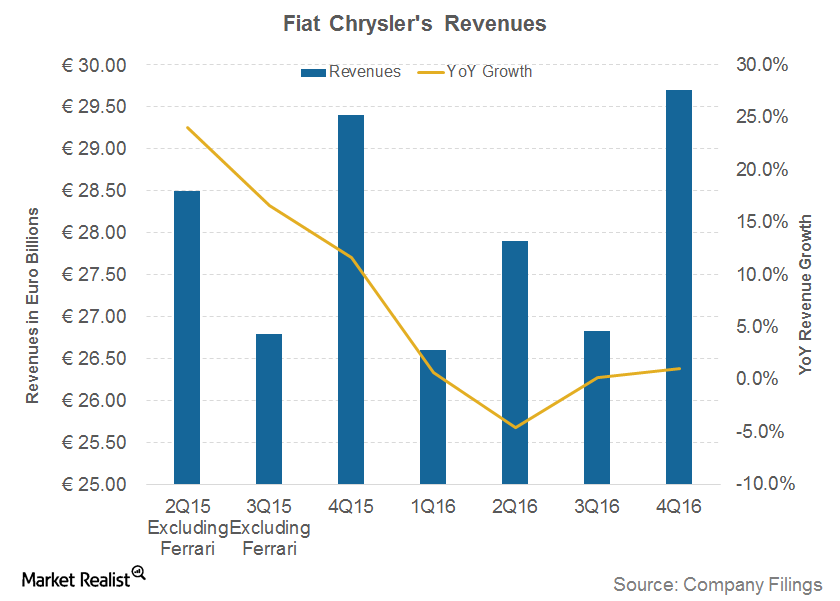 A Look at Fiat Chrysler's 4Q16 NAFTA Revenues
Fiat Chrysler's 4Q16 revenues
In 4Q16, Fiat Chrysler Automobiles' (FCAU) total revenues were 29.7 billion euros, or $31.7 billion. After excluding revenues for the Ferrari segment, FCAU's revenues rose 1.0% YoY (year-over-year). Ferrari (RACE) was part of Fiat Chrysler's portfolio until last year when it separated and was listed on the New York Stock Exchange in October 2015.
Now let's take a closer look at Fiat Chrysler's 4Q16 revenues. Note that FCAU reports its earnings in euros. So you should pay attention to its euro financial figures to get a fair idea of the existing trend.
Article continues below advertisement
Total shipments fell
FCAU's consolidated shipments in 4Q16 were 1.15 million vehicle units against 1.20 million in 4Q15. That reflects a fall in consolidated shipments of about 4.0%. Combined shipments, which include shipments of the company's joint ventures, also fell about 2.0% year-over-year in 4Q16. The primary reason behind the fall was the company's lower shipments in North America.
Lower NAFTA revenues
By vehicle sales volume in 2016, FCAU was the fourth-largest automaker in the United States. In 4Q16, it shipped about 645,000 vehicles in North America, which was about 12.0% below the 731,000 vehicle units shipped in 4Q15. The company's revenues from the NAFTA (North American Free Trade Agreement) region fell 7.0% to 17.7 billion euros, or $18.9 billion.
Note that Fiat Chrysler makes the majority of its revenues from North America, just like its peers (IYK) General Motors (GM) and Ford (F).
In the next part of this series, we'll take a look at Fiat Chrysler's 4Q16 revenues from its other key markets.