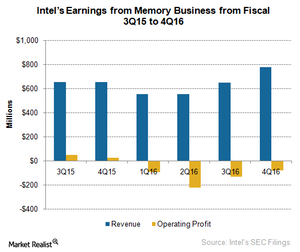 3D Technology: The Future of Intel's Non-Volatile Memory Group
By Puja Tayal

Updated
Intel's Non-Volatile Memory group
In the previous part of the series, we saw that Intel (INTC) is expanding its IoT (Internet of Things) business to include virtual reality and autonomous cars. In this connected world, the need for memory is never ending. Embedded devices require non-volatile NAND solutions that don't lose memory even if the power flow to the device is discontinued.
As devices become more complex, the memory content per device grows, leading to a growth in memory demand. As Intel has entered the connected space, it's also manufacturing 3D NAND at its China (MCHI) factory.
Article continues below advertisement
Intel's memory earnings
As seen from the above graph, Intel's NVMG (Non-Volatile Memory Group) revenue has been increasing, but it continued to post losses. This is because the company spent a large amount on building its China plant and developing products based on the 3D XPoint technology it developed together with Micron Technology (MU).
Intel might have started shipping 3D NAND in fiscal 4Q16. If so, the NVMG is likely to report strong revenue growth and its losses are likely to narrow as NAND prices improve. Recently, Micron's NAND revenue grew 26.0% sequentially to $1.3 billion in fiscal 1Q17. Micron's gross margin for NAND rose from 17.0% in fiscal 4Q16 to 23.0% in fiscal 1Q17.
Intel's NVMG is likely to have a strong fiscal 2017 due to favorable market conditions. Micron expects a situation of undersupply to occur in the NAND industry in 2017 where the supply is expected to increase by 38.0%–42.0%, whereas demand is expected to increase 40.0%–45.0%.
Intel's Optane brand
Moreover, Intel is developing products based on 3D XPoint technology under the Optane brand. IBM (IBM) will be the first to adopt Optane products. Intel originally planned to launch its first 3D XPoint-based Optane product in 4Q16, which then got delayed to early 2017.
At the fiscal 3Q16 earnings call, Intel's CEO, Brian Krzanich, said, "There will be a second generation of Purley that includes 3D XPoint." The second generation Purley platform is the Cannonlake-EP, which is expected to launch in 4Q18 or 1H19. However, Intel is showing some signs of launching Intel sooner than 2018.
At the CES (Consumer Electronics Show) 2017, Intel launched a few Kaby-Lake-powered NUCs (next unit of computing) that support Optane, which indicates that Optane may launch earlier than fiscal 4Q18. Once 3D XPoint starts contributing to revenue, NVMG earnings could rise significantly.