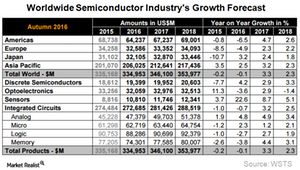 2017: An Important Year for Micron, AMD, NVIDIA
By Puja Tayal

Updated
Semiconductor industry outlook 2017
2016 ended on a good note for the semiconductor industry, raising optimism among investors and analysts about its growth potential for 2017 and 2018. Following the industry's report of falling sales in 2016, almost all analysts expect growth to pick up in 2017.
In a new report, Deutsche Bank analyst Ross Seymore said that he expects the semiconductor industry to expand 5% YoY (year-over-year) in 2017, driven by 10% growth in the data center market, 9% growth in the automotive market, 7% growth in the communications market, and 4% growth in the consumer and industrial markets. This growth could be partially offset by a 2% fall in the PC (personal computer) market.
The WSTS (World Semiconductor Trade Statistics) group expects global semiconductor sales to rise 3.3% in 2017 and 2.3% in 2018, driven by strong growth in the Americas and the Asia-Pacific region. The key beneficiaries of this growth will likely be memory and sensor chip suppliers.
According to a report by the EE Times, International Business Strategies expects global chip sales to rise 4.6% YoY in 2017, driven by 12%–14% growth in the data center space and 10.5% growth in the automotive space.
Article continues below advertisement
Top ten semiconductor trends to watch for in 2017
However, these are just numbers, and they're subject to change with the changing dynamics of the industry. The top ten trends to watch for in 2017 are as follows:
US President-elect Donald Trump's taxation policy
changing trade relations between the United States and China, the key market for semiconductor exports
falling demand for PCs, the biggest consumer of semiconductors
slowdown in smartphone sales
strong growth in the data center segment
Advanced Micro Devices' (AMD) comeback in the high-end processor and GPU (graphics processing unit) markets
NVIDIA's (NVDA) growth momentum in the gaming, automotive, and deep-learning segments
Micron's (MU) rebound to profit on an improvement in memory prices
the implementation of the Qualcomm–NXP Semiconductor (QCOM) (NXPI) merger, the biggest merger in the semiconductor industry to date
availability of the first products based on the revolutionary 3D XPoint technology, jointly developed by Intel (INTC) and Micron
In this series, we'll look at these trends and how they could affect the global semiconductor industry.