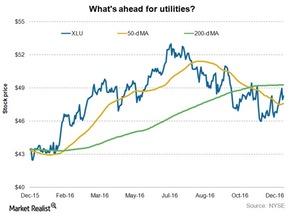 XLU: Where Do Short Interest and Chart Indicators Point?
By Vineet Kulkarni

Updated
Chart indicators
Higher interest rates are likely to make utilities (IDU) less appealing for conservative investors if the Federal Reserve sticks to its aggressive rate hike plan in 2017. Let's see where the Utilities Select Sector SPDR ETF (XLU) is going in the near term.
On December 15, 2016, XLU was trading at a 2% premium and a 2% discount to its 50-day and 200-day moving averages, respectively. These levels may now act as a support and a resistance, respectively. Treasury yields could continue to influence utilities' movements going forward.
Article continues below advertisement
We can analyze a stock's moving averages via price crossover or via two or more moving averages. The first method shows that when a stock's price exceeds a particular moving average, it's a bullish sign, and vice versa. The second method tells us that when a stock's shorter moving average crosses over its longer moving average, it's a "buy" signal for the stock.
Relative strength index
XLU's RSI (relative strength index) currently stands at 59. RSI is a momentum indicator made up of values between 0 and 100. Movements of below 30 are considered to be in the "oversold" zone, and movements of above 70 are considered to be in the "overbought" zone.
Short interest
According to a recent report, short interest in XLU rose more than 9% at the end of November 2016. Its total shorted shares in the middle of November were 68.2 million, compared to its total shorted shares of 74.3 million on November 30, 2016. 
The rise in XLU's short interest indicates that more investors are now expecting a downside in the ETF compared to its current levels.