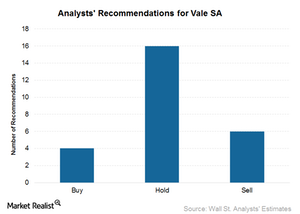 What's the Word on Wall Street about Vale?
By Anuradha Garg

Dec. 12 2016, Updated 8:05 a.m. ET
The word on Wall Street
Among the analysts that track Vale (VALE), 15.0% have given the company "buy" recommendations, and 23.0% have given it "sell" recommendations. Vale's target price is $7.23, which implies a downside potential of 16.5%.
Since the start of the year, the bullish sentiment for Vale has corrected significantly. At the start of 2016, it had "buy" ratings from 22% of analysts. Its target price, however, has risen 53%, with its share price staying firm due to stronger-than-expected commodity prices, especially for iron ore. This is also true for other iron ore miners such as Rio Tinto (RIO) and BHP Billiton (BHP).
Article continues below advertisement
Citigroup upgraded Vale
Citigroup (C) upgraded Vale to a "neutral" from a "sell" on November 1, 2016. It also raised Vale's target price from $4.40 to $7.30. Citigroup analyst Alexander Hacking said in a report, "We downgraded Vale to Sell in 2014 on the thesis that 2014-16 would be a cash crunch, and this now appears to be in the rear-view mirror."
Citigroup expects Vale to face seasonal tailwinds in the short term and to be free cash flow positive in 2017. It also expects Vale to benefit from higher Chinese steel prices (SLX). Hacking added, "Chinese steel production and iron ore prices have surprised on the upside this year – and we likely missed the cyclical floor in Vale, which now looks like 1Q16."
Other ratings changes
Jefferies Group maintained its "hold" rating on Vale's stock on October 16, 2016. The company has a target price of $6 for the stock. BMO Capital Markets maintained its "underperform" rating and its target price of $5 on Vale's stock on November 30, 2016.
JPMorgan Chase upgraded Vale from "neutral" to "overweight" on September 12, 2016. It also increased the stock's 12-month target price from $5 to $7. Stronger-than-expected iron ore prices were part of the reason JPMorgan turned positive on Vale. JPMorgan has said that Vale's business is improving, and it expects the company to report positive free cash flow in 2017 and beyond.
This improvement is in line with the expectations of Vale's management. JPMorgan said, "For a while we have been telling investors that Vale was a strong and interesting story but had a timing issue."
On August 9, 2016, Morgan Stanley upgraded Vale's stock from "underweight" to "equal weight" and raised its target price from $4.80 to $6.20. The company believes that Vale's balance sheet concerns could be alleviated by future iron ore production and asset sales.
Credit Suisse (CS), on the other hand, has maintained its "sell" rating on Vale with a target price of $4. According to the company, "We have updated our Vale model, marking to market 1Q and 2Q prices, applied the CS revised price deck (iron ore average of USD40/t from 2H16 until 2019), and decreased 2016 capex by USD0.5bn [billion]; in our revised estimates the 2016 cash flow gap improved by USD2.5bn."