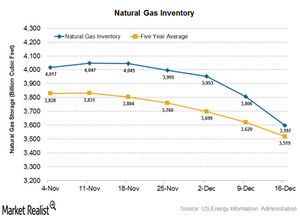 Will Sharp Fall in Natural Gas Inventory Benefit Coal Miners?
By Sheldon Krieger

Dec. 23 2016, Published 10:53 a.m. ET
Natural gas inventory
Every Thursday, the EIA (U.S. Energy Information Administration) publishes a natural gas inventory report for the previous week. This series will cover the latest report for the week ended December 16, 2016.
Throughout the year, natural gas is stored underground to save fuel for peak demand during the cold winter months. For the week ended December 16, natural gas inventory came in at 3,519 Bcf (billion cubic feet) compared to 3,806 Bcf one week earlier.
This inventory figure was lower than 3,823 Bcf recorded during a comparable week in 2015. However, it was higher than the five-year average of 3,519 Bcf. A fall of 209 Bcf in the underground natural gas inventory during the week ended December 16 was higher than analysts' expectations of 201 Bcf.
Article continues below advertisement
Why is the EIA report important?
Commodity prices are a function of supply and demand. If demand rises while supply remains constant, prices rise because more customers are chasing each unit of a commodity.
In contrast, if supply rises for a given level of demand, prices fall because the commodity is available in abundance. Inventory levels reflect supply and demand trends, so they're useful for getting a sense of natural gas prices.
The impact of natural gas inventory on coal
A lower-than-expected natural gas inventory indicates a lower-than-expected natural gas supply or higher demand for natural gas. That, in general, has a positive impact on natural gas prices. A rise in natural gas prices is positive for thermal coal producers, because utilities (XLU) tend to burn more natural gas when natural gas prices are falling.
However, current natural gas prices are still at multiyear lows. Persistently low natural gas prices over the past few months have hurt coal producers (KOL), especially those with operations in the Eastern United States and the Midwest. Some of these companies are Alliance Resource Partners (ARLP), Natural Resources Partners (NRP), Arch Coal (ARCH), and Peabody Energy (BTUUQ).
In the next part, we'll take a look at what just happened with natural gas prices.