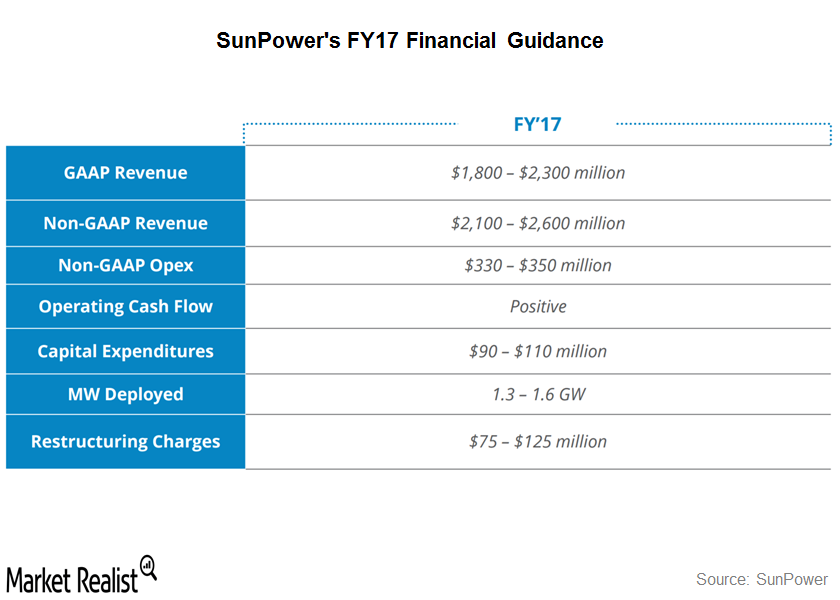 How Will Restructuring Initiatives Impact SunPower?
Impact of restructuring
SunPower (SPWR) expects to incur about $225 million–$275 million in restructuring charges as part of closing its Philippine-based Fab 2 manufacturing facility. According to company filings, these charges primarily include costs related to asset impairments, severance benefits, lease and related termination costs, and other associated costs.
Out of the $225 million–$275 million, the company expects to incur at least $150 million in 4Q16. It's expects 30% of the restructuring charges to be in cash. It's important to note that these restructuring charges are in addition to the charges announced on August 9, 2016.
Article continues below advertisement
SunPower expects to record an estimated impairment charge of ~$50 million–$55 million for selling its excess polysilicon inventory at lower prices than its long-term contracted prices in 4Q16. According to the company's earnings call, SunPower's previously disclosed fiscal 2016 guidance doesn't reflect the impact of the above-mentioned 4Q16 charges.
SunPower's fiscal 2017 guidance
For 2017, SunPower expects its GAAP (generally accepted accounting principles) revenue to be $1.8 billion–$2.3 billion. It expects MW (megawatts) deployed to be 1.3–1.6 GW gigawatts. The company expects to incur restructuring charges of $75 million–$125 million in 2017. With the completion of Fab 4 and the high capital efficiency of its P-Series production, SunPower expects an ~50% reduction in its capital expenditure to $90 million–$110 million compared to the capital expenditure incurred in 2016. Also, the company expects that its restructuring initiatives will result in positive operating cash flows for next fiscal year.
Outlook
Moving ahead, SunPower plans to supply its Interdigitated Back Contact products from its Fab 3 and Fab 4 manufacturing facilities with an increasing mix of its latest X-series technology. The company intends to ramp up the production of its lower cost P-Series technology products. These initiatives are expected to have a positive impact on SunPower's margins. In the long term, module average selling prices and power purchasing agreement pricing will decide upstream solar (TAN) companies' margins such as SunPower, First Solar (FSLR), Canadian Solar (CSIQ), and Trina Solar (TSL).