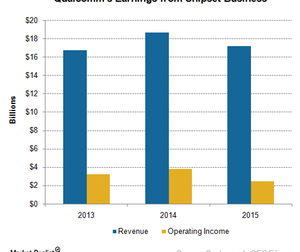 What Could Qualcomm Gain or Lose from New PC and Server Chips?
By Puja Tayal

Updated
Where is Qualcomm's business heading?
Until now, Qualcomm (QCOM) has dominated the smartphone chip market, and Intel (INTC) has dominated the PC and server markets. However, industry dynamics are changing as the growth in smartphone and PC sales slow.
While Intel is shifting its focus away from mobile, PC, and basic server chips, Qualcomm is increasing focus in these areas. The common markets both companies are targeting are automotive and IoT (Internet of Things).
Article continues below advertisement
This shift in focus has brought Qualcomm into direct competition with Intel in the PC, server, automotive, and IoT space. Qualcomm has the upper hand over Intel in connectivity solutions, while Intel has an upper hand over Qualcomm in manufacturing technology and high-end processors. Let's see how these advantages and disadvantages could work out for Qualcomm in the long term.
What does Qualcomm hope to achieve from the Microsoft partnership?
Qualcomm has partnered with Microsoft (MSFT) to bring Windows 10 to mobile devices, also known as cellular PCs. This would open a new market of laptops and tablets for Qualcomm. If cellular PCs turn out to be a success, Qualcomm may bring Windows 10 to other devices in the era of 5G.
This is a win-win situation for Qualcomm, as it integrates Windows 10 without making a large investment in building separate processors for laptops. It doesn't have much to lose if this doesn't work out, but it has a lot to gain if it does.
However, Qualcomm would face tough competition from Intel and Advanced Micro Devices (AMD), which use x86 chips and have been in the PC business from the start.
Article continues below advertisement
Qualcomm can either gain or lose in the server market 
On the other hand, the competitive landscape is different for servers. Intel's Xeon chips power almost all servers. It would be a significant challenge for Qualcomm to convince companies to shift from x86 to ARM, as this would require a complete change in hardware and software infrastructure.
Some cloud companies may switch to ARM if Qualcomm convinces them that its chips would bring them cost savings over Intel's Xeon chips. Even if Qualcomm manages to get a few server installations, that would increase its profits and cash flows significantly as cloud companies order in bulk.
However, we believe that Intel can easily beat Qualcomm here by launching low-cost, low-power server chips. IBM's (IBM) Power9 and AMD's Zen could compete with Qualcomm's server chips. If this happens, Qualcomm could face a loss, as its research and development efforts wouldn't yield any results. Hence, it has adopted a wait-and-see approach in this space to keep its spending under control.
Next, we'll look at Microsoft's perspective.