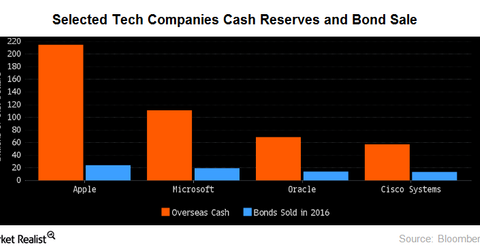 Will Oracle's Balance Sheet Lighten up in 2017?
By Anne Shields

Updated
Tech and the bond market
As we all know, tech companies such as Apple (AAPL), Microsoft (MSFT), Oracle (ORCL), Google (GOOG), and IBM (IBM) are cash rich. But because their cash reserves are held abroad, they have to resort to bond issuances to borrow for acquisitions, dividends, and buybacks.
Interest rates were also low in 2016, which prompted tech companies to go the debt route. Usually, these bond issuances don't significantly impact these companies because the tech sector is known to have significant cash reserves. In 2015, the tech sector was the only sector in the S&P 500 (VOO) that had more cash than debt per share in 2015.
Article continues below advertisement
According to Bloomberg, Apple has become the biggest non-financial corporate bond issuer globally by raising more than $80 billion over the past four years, including 2016, rather than repatriating its overseas cash. Apple, with its $238 billion in cash reserves, tops the list of tech companies that have significant cash reserves offshore. If these tech companies use their cash parked overseas, they would have to pay a 35% tax on the repatriation of that cash from overseas accounts.

Meanwhile, Oracle announced it biggest bond deal ever of $14 billion in 2016. The majority of these proceeds went to finance share buybacks and dividends. But since Donald Trump won the US Presidential elections, the interest rate environment has changed. Trump's protectionary policies, spending on infrastructure construction, and reduction in taxes—in addition to the Federal Reserve's interest rate hike and improvements in the job market under Barack Obama's administration—all point to faster inflation in the US going forward.
Cash repatriation and higher interest rates
The tech sector's huge cash corpus has prompted President-elect Trump to propose a reduction in the tax rate of 35% to a one-time tax rate of 10% on repatriated cash. Trump's lower proposed income tax rate should also give tech companies the flexibility to fund growth by investing in R&D (research and development).
At the same time, the higher interest rate environment will likely keep Oracle and other tech companies from selling bonds. If tax rates are significantly reduced, the majority of tech companies' cash should return to the US, reducing these companies' dependence on the debt market to fund their buyouts, dividends, buybacks, and debt repayments.
For Oracle, this will mean that it can depend more on its own cash reserves and less on bond sales, which should improve not just its balance sheet strength but also its ratings.