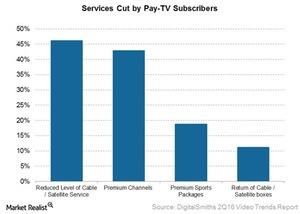 Will Netflix Bid for Live Sports like Amazon's Proposed Bid?
Netflix's view of live sports
Live sports broadcasts are very popular among viewers. For pay-TV providers, broadcasting live sports events provides an opportunity to attract new pay-TV subscribers. So far, streaming services like Netflix (NFLX) have stayed away from streaming live sports.
Netflix talked about sports programming and live sports at the UBS Global Media and Communications Conference earlier this month. The company stated that it thinks that pay-TV or linear television networks were better for live sports broadcasts than streaming the events on Netflix.
Article continues below advertisement
The company stated that it didn't see itself bidding for rights to sports leagues in the near future. Earlier this year, Netflix stated in an earnings call that it didn't consider live sports to be as attractive an opportunity as news programming. It stated that it would be interested in a business model in which it could create its own sports league.
Amazon is considering live sports
Amazon (AMZN) is another company that could be on the verge of putting a major distinction between its Amazon Video service and rival streaming services.
According to a Wall Street Journal report last month, Amazon has been plotting a move to live sports streaming as part of its Amazon Video expansion. The company is already working to take its streaming video service to international markets, following Netflix's recent completion of a 200-nation global expansion.
According to a Digitalsmiths 2Q16 Video Trends report, pay-TV subscribers seem to be moving away from sports packages.
According to the report, and as the above chart indicates, 46.1% of subscribers reduced their levels of pay-TV service or opted for lower-priced packages, while 18.7% of subscribers opted out of premium sports packages.
Considering this trend and the rising costs of pay-TV packages, viewers prefer to view content online. Amazon could be trying to take advantage of this trend by considering broadcasting live sports events.