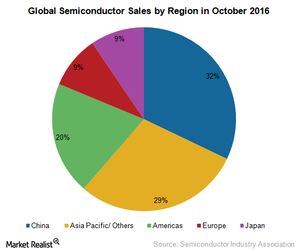 Will Micron Transfer Its DRAM IP to Nanya?
By Puja Tayal

Updated
IP transfer to Nanya: a complex transaction
In the preceding part of this series, we discussed how Micron Technology's (MU) recent acquisition of Inotera should improve Micron's profit margins in fiscal 1Q17. As part of the deal, Micron will also give Nanya the license to use its 1x and 1y DRAM (dynamic random access memory) technologies. However, it's unclear if this licensing will take place, given the political conditions in the US, which are not favorable for IP (intellectual property) transfer.
To be sure, transferring IP is a highly complex transaction and involves several political, legal, and industrial constraints.
Article continues below advertisement
China's attempt to secure memory IP 
China (MCHI) has been eyeing memory IP for more than a year as it looks to become self-sufficient in the semiconductor space. In 2015, China's Tsinghua offered to acquire 100% stake in Micron and a 15% stake in Western Digital (WDC) but then withdrew from these offers due to US security concerns.
Memory is sophisticated technology. There are only three IP holders for DRAM and six for NAND. China is the largest consumer of semiconductors in the world, and if China manages to produce its own memory, it would create a situation of oversupply and push the global memory makers into losses. For this reason, memory makers are reluctant to supply IP to China.
Is memory partnership with China a good idea?
As a complete acquisition of a memory manufacturer is not possible, China adopted a different approach, and Changjiang Storage has entered into partnership talks with Micron, Western Digital's SanDisk, Toshiba (TOSBF), and other memory companies. So an Inotera-like partnership, wherein China produces memory only for Micron, could be possible. Such a partnership would give Micron the much-needed cash to de-lever its balance sheet while not giving up on its IP.
Meanwhile, companies such as Intel (INTC) and Samsung (SSNLF) have opened memory plants in China. This helps companies maintain their revenue and profit without compromising on their IP.
A possible partnership between Micron and China seems unlikely as the two parties have different objectives. While Micron aims to improve its profits, China aims to manufacture its own memory. But with Donald Trump set to become the next US President, transferring IP to China has become even more difficult.
Three different Chinese memory companies are now building memory plants that should start production in a few years. If the nation gets memory IP, global production will accelerate rapidly. For this reason, a transfer of IP to Taiwan looks to be a challenge.
In the next part, we'll look at other macro factors that could Micron's earnings.