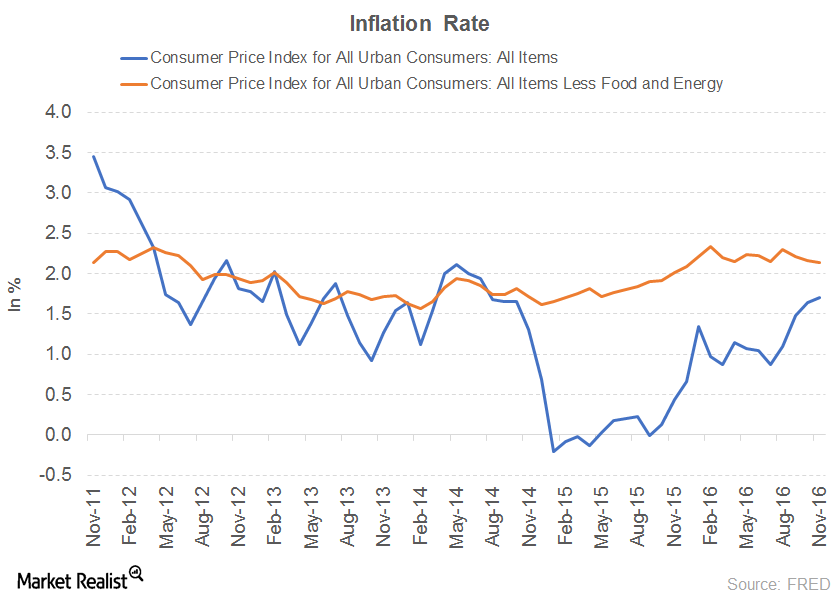 Will US Inflation Stay under 2%?
VanEck
Inflation Is Not a Concern for the Time Being
There has been talk in the press about rising inflation expectations. Gold has obviously not responded to this and we think for good reason. It is not reflected in the latest Consumer Price Index (CPI), [6.The Consumer Price Index (CPI) is a measure that examines the weighted average of prices of a basket of consumer goods and services, such as transportation, food and medical care. It is calculated by taking price changes for each item in the predetermined basket of goods and averaging them.] Producer Price Index (PPI)(PPI), [7.The Producer Price index (PPI)(PPI) is a family of indexes that measures the average change in selling prices received by domestic producers of goods and services over time.] or Personal Consumption Expenditure (PCE)(PCE), [8. Personal consumption expenditures (PCE)(PCE) is the primary measure of consumer spending on goods and services in the U.S. economy. It accounts for about two-thirds of domestic final spending, and thus it is the primary engine that drives future economic growth.] figures. Core inflation is within the Fed's target levels and headline inflation is catching up to core due to a bottoming in energy and other commodity prices. Gold responds to worrying levels of inflation, and especially inflation that drives real rates lower. We have yet to see signs that inflation is getting out of control, and, therefore, there has been no response in the gold market.
Article continues below advertisement
Market Realist
Inflation outlook
The Federal Reserve's ideal inflation rate is 2% in order to ensure stability and employment—in short, a healthy economy. Core inflation, or inflation minus food and energy, has remained around 2% in 2016. Total inflation has remained below 2% level since July 2014.
The November numbers were driven by housing and gasoline indexes, according to the Bureau of Labor Statistics (or BLS). The Fed rate hike, oil prices, the job market, and Donald Trump's fiscal policies have added momentum to the inflation numbers.
Gold (UGLD) usually performs well during periods of uncertainty and inflation, acting as an ideal hedge. See the chart above. The market was counting on gold when Trump won the election due to increased concerns about his policies while the growth rate wasn't that promising, coupled with weak wages and employment, falling oil prices, rising debt levels, and the fiscal deficit. Trump's shocking victory set the stock markets rallying, especially driven by the financials, in expectation of reduced regulations.
Trump's expansionary fiscal policies and infrastructure spending plans increased inflation expectations. The US dollar surprisingly continued to appreciate in anticipation of higher growth and economic revival. This trend led to a hike in the federal funds rate on December 15, along with assurances of potential rate hikes in coming years. Short-term Treasury (TLT) (TBT) (SHY) yields and the dollar jumped while gold and oil (USO) (UNG) prices plummeted in response to the rate hike. The Organisation for Economic Co-operation and Development (or OECD) has projected annual growth of 1.9% in inflation for 2017.