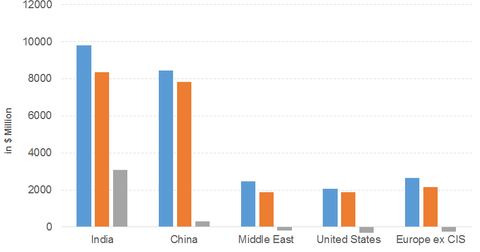 How Will Demonetization and GST Impact India's Gold Imports?
By VanEck

Updated
VanEck
Currency Changes Drive India's Demand in November  
Demand from India has been weak this year due to rising prices, existing taxes, and import restrictions. The World Gold Council trimmed its demand estimate to between 650 and 750 tonnes, which would be the weakest since 2009 and down from 858 tonnes in 2015. Despite this, we are seeing good seasonal demand from India, as the Reserve Bank of India reports 86 tonnes of imports in October, which is more than twice the September volume and above the historical October average of 70 tonnes.
Article continues below advertisement
There have been some emerging issues in India that are likely to have an uncertain impact on its gold market. A goods and services tax (or GST) is set to be implemented on April 1, 2017. GST rates range from 5% to 28% for different categories, with the food category to have a zero rate. A 4% GST has been proposed for gold, but the finance ministry has delayed its decision.
Indian gold premiums spiked in November when the government abolished two high-value currency notes. This is aimed at curtailing counterfeiting, black market activity, and motivating people to hold savings in bank accounts. There has also been unsubstantiated rumors that the government is considering an import ban on gold. We believe it is unlikely the government would take such draconian action because it would encourage rampant smuggling that would circumvent any monitoring or taxation. Many Indians use gold as a store of wealth because there is little trust in the financial system. We doubt that any of the recent policy changes are increasing this sentiment of the system.
Market Realist
The effect of demonetization and GST on gold
Gold demand fell 10% in 3Q16, according to the World Gold Council. Gold ETPs have been the only gainers, offset by jewelry, bars, and coins. Consumer demand for gold fell 16% YTD (year-to-date). Weakening demand for gold was mainly driven by India, China, the Middle East, and Europe minus the Commonwealth of Independent States.
India recorded a sharp drop of 28% in demand for gold in 3Q16, driven by government policies, high gold prices, tapering rural disposable incomes, and weak consumer sentiment. The World Gold Council reported a 10% drop in the global demand for gold in 3Q16, led by India and China. High prices had driven gold recycling, which recorded year-over-year (or y-o-y) growth of 30% in 3Q16.
Article continues below advertisement
The demonetization drive in India led to a surge in gold prices as everybody rushed to convert the abolished notes into gold and silver. Gold jewelry and gold imports recorded a sudden spike in November. The move left a deep impression on the severely cash-driven economy. As liquidity is flowing into banks, consumer demand and bank credit is falling. Lower retail inflation, bank deposit rates, and loan defaults are some of the positive results of demonetization. Coupled with a potential cut in direct and indirect taxes in the upcoming budget, these results are expected to bring good news to stocks and bonds. Ten-year bond yields in India are falling, driving up prices.
Imports to India rose 10.4% year-over-year to $33 billion in November. Purchases of gold grew 23.2% to $4.4 billion in November. Talks persist about the implementation of a 4% GST on gold bullion and reducing the gold custom duty by 80% to 2%. A 16% GST on gold jewelry may also be possible. The move has the potential to curb smuggling by bringing down import costs to 6% from the existing 10% customs duty. This change would also enhance the revenue of the Center and state governments.
Gold premiums spiked in November to two-year highs over a possible import ban. According to World Gold Council, the SPDR Gold Shares ETF (GLD) and the iShares Gold Trust ETF (IAU) were among the top physically backed gold ETFs by assets under management (or AUM) in tonnes. They accounted for 50% of total holdings as of September's end.