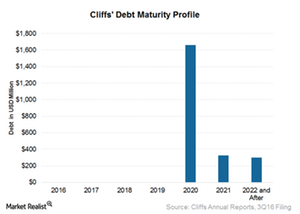 Could Cliffs Natural Resources Issue More Equity?
By Anuradha Garg

Updated
Financial leverage
Although it's important to keep an eye on a company's financial leverage, it becomes increasingly important to do so in today's volatile times. Cliffs Natural Resources's (CLF) debt has escalated due to acquisitions at the peak of the cycle and subsequent write-downs.
The rise in debt has put immense pressure on its stock price. In fact, higher financial leverage has been the major burden on its stock for the last few years.
Cliffs Natural Resources's new management has been trying to reduce the company's indebtedness since it took over in August 2014. The company's management maintains that its top priority for the proceeds from any source is to retire its debt.
Article continues below advertisement
No more equity issuance
During a recent interview, Cliffs Natural Resources's CEO, Laurenco Goncalves, maintained that the priority to use the cash generated from operations will be to pay down debt. He also said that the company is not planning to issue any more equity at this point, as it would lead to dilution of equity. Since the seaborne and US domestic iron ore prices remain buoyant, the company could be planning to accumulate sufficient cash organically to reduce its debt.
Cliffs Natural Resources had raised $300.0 million in equity in 3Q16 to use the proceeds for general corporate purposes such as repaying debt, particularly its notes due in 2018. With the help of this equity, the company reduced its net debt to $2 billion at the end of 3Q16 compared to $2.5 billion at the end of 2Q16. This also reduced its net expenses by $17 million annually.
Cliffs Natural Resources's next major repayment comes due after 2020, giving it ample time to accumulate cash to reduce its financial leverage.
Other US (VTI) steel companies with high financial leverage such as ArcelorMittal (MT), AK Steel (AKS), and U.S. Steel (X) have also made successful efforts to reduce their debt levels.
Comfortable liquidity
Cliffs Natural Resources (CLF) ended 3Q16 with $132.0 million in cash and $247.0 million in asset-backed lending facilities. These figures amount to $379.0 million in total liquidity. The company outlined the receipts of proceeds from equity issuance and the corresponding repayment of 2018 notes as the two major liquidity events in the quarter.
In our view, the reduction of debt in a difficult market environment has certainly acted as a major tailwind recently for Cliffs Natural Resources stock.