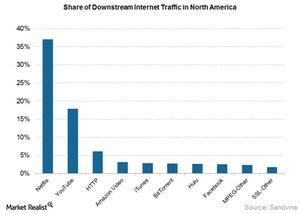 Will a Change in Net Neutrality Rules under Trump Affect Comcast?
By Shirley Pelts

Dec. 23 2016, Updated 9:05 a.m. ET
Net neutrality and Comcast
The classification of broadband as a utility service in Title II of the Communications Act has meant that broadband providers such as Comcast (CMCSA) and AT&T (T) can't block, slow down, or even speed up Internet traffic for any legal applications, devices, content, or services.
According to Comcast, net neutrality regulations could adversely affect its high-speed Internet business, as it could result in streaming services such as Netflix's (NFLX) filing claims for the blockage of its Internet traffic across Comcast's network. In 2014, Netflix was involved in a dispute with Comcast over interconnection fees.
Article continues below advertisement
Comcast was asked about the possibility of the reclassification of broadband in Title II at the UBS Global Media and Communications Conference. The company responded, "As you know, we very much believe in the principles behind what policy was trying to get at, but the overhang of where it could go in the future was something that I think had a chilling effect. Hopefully that chilling effect is gone; both from how investors look at the space and businesses look at the space."
Changes in net neutrality
A rollback in net neutrality rules under Donald Trump could bode well for Comcast. It could mean that Comcast wouldn't have to worry about third-party claims for damages from streaming services such as Netflix due to the slowing of Internet traffic over its networks.
A rollback could also result in Comcast promoting its IP-based streaming service, Stream, over other streaming services across its broadband network. There's also the possibility that Comcast could charge a higher interconnection fee to Netflix, which in turn could help Comcast earn more revenue.
Net neutrality is a hotly debated global topic. Discussions notably increased with the rise of new OTT (over-the-top) content providers such as Netflix. According to Sandvine's Global Internet Phenomena report in 2015, and as shown in the chart above, Netflix had a 37.1% share of peak downstream Internet data traffic in the United States.
OTT companies don't own the broadband infrastructure on which their customers stream videos. They require broadband services from third parties such as cable companies and telecommunications providers to reach their customers.