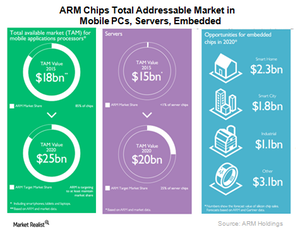 How Could ARM Holdings Benefit from Qualcomm's Product Announcements?
By Puja Tayal

Updated
Microsoft–Qualcomm partnership brings opportunity for ARM Holdings
In the last few parts of this series, we saw that Microsoft (MSFT) and Qualcomm (QCOM) are looking to tap the mobile PC market of tablets, notebooks, and laptops by bringing Windows onto ARM processors. While the above two companies would get new revenue streams, what would happen to ARM Holdings (ARMH), which licenses its chip design to Qualcomm?
ARM Holdings earns revenue by licensing its chip architecture for mobile PCs, servers, network infrastructure, and embedded devices. It earns revenue in two forms. The first method is through an upfront licensing fee, which manufacturers pay while obtaining licenses, and the second method is through royalties, or a certain percentage of the selling price of the end devices.
Article continues below advertisement
How can ARM Holdings benefit from Windows on ARM?
As seen from the chart above, ARMH commands an 85% market share of mobile PCs and expects to maintain it until 2020. However, a slowdown in smartphone and laptop sales is slowing the TAM (total addressable market) to $25 billion by 2020.
If Microsoft and Qualcomm's partnership succeeds in rekindling demand for mobile PCs in emerging markets, ARMH would stand to gain more revenue from royalties. Moreover, this would encourage other PC and mobile chipmakers such as Advanced Micro Devices (AMD) and MediaTek to launch ARM-based processors that support Windows.
If Windows enters ARM processors, it could expand the mobile computing form factors from tablets and smartphones to augmented reality headsets and other IoT devices. This shift could threaten Intel's dominance in the PC space. This could expand the TAM for mobile PCs and even increase ARMH's market share.
Can ARMH benefit from Qualcomm's first ARM server processor?
ARMH holds less than 1% in the server market, which is dominated by Intel's (INTC) x86 processors. Several companies such as Cavium, AMD, and Applied Micro launched ARM-based server chips, but they may not make their mark on the market.
Qualcomm is better placed to compete with Intel in the server space. If its ARM-based server chip proves to be a success, even a small gain in the market share would significantly increase ARMH's revenue, as these are high-end chips commanding high prices. As the price of the end device rises, so does the royalty earned by ARMH.
ARMH was recently acquired by SoftBank, which aims to leverage ARM chip designs in embedded devices and servers. Qualcomm's product strategy is in sync with SoftBank's strategy for ARMH.
In separate news, Microsoft has strengthened its partnership with Intel for security and artificial intelligence. We'll look into this in the final part of this series.