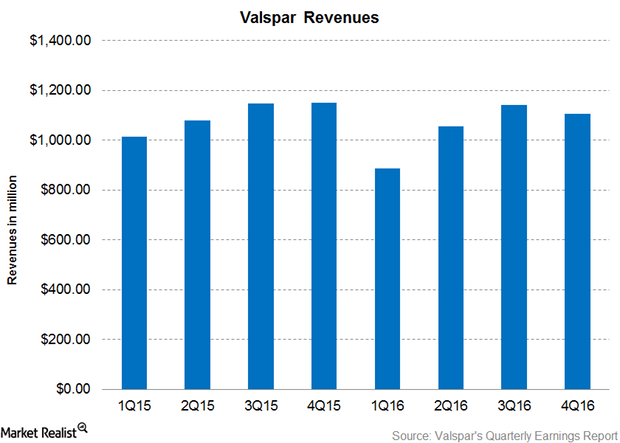 Why Valspar Missed Analysts' 4Q16 Revenue Estimates
Valspar's 4Q16 revenues
Valspar (VAL) not only missed analysts' 4Q16 earnings estimates, but it also missed analysts' revenue estimates. Analysts had estimated that Valspar's revenue would be $1.18 billion, but the company reported total revenue of $1.10 billion. Reported revenue was ~3.8% lower than 4Q15 revenue of $1.15 billion.
Valspar's peers Sherwin-Williams (SHW), RPM International (RPM), and PPG Industries (PPG) haven't announced their 4Q16 earnings yet. Valspar's financial reporting year runs from November 1 through October 31.
Valspar's fall in total sales can be attributed to the following factors:
Foreign exchange negatively impacted total sales 1.0%.
Total sales volume accounted for the rest and fell more than 2.0%.
From August 1–October 31, 2016, the dollar index rose 2.8%, indicating a strong upward movement in the dollar. Companies with businesses outside the United States will see a negative impact on their revenues and net income.
Article continues below advertisement
Net profit margins
Valspar reported a net profit margin of 9.4% in 4Q16 compared to 8.9% in 4Q15. That's an increase of 0.50 percentage points. The increase was mainly due to lower income taxes and lower cost of sales.
In 4Q16, Valspar paid income tax of ~$5.7 million compared to ~$42.4 million in 4Q15, a fall of ~86.0% on a year-over-year basis. The company's cost of sales was $712.5 million compared to $735.9 million in 4Q15. That's a fall of ~3.2% year-over-year.
During the quarter, Valspar incurred charges related to restructuring and expenses related to its proposed merger with Sherwin-Williams. Those costs totaled $8.0 million, which negatively impacted earnings per share by ~$0.10.
ETF investment
You can hold Valspar indirectly by investing in the ProShares S&P MidCap 400 Dividend Aristocrats (REGL). As of December 20, 2016, 2.0% of REGL's holdings were in Valspar.
Let's move on to the next part, where we'll look in detail at the earnings for Valspar's segments.