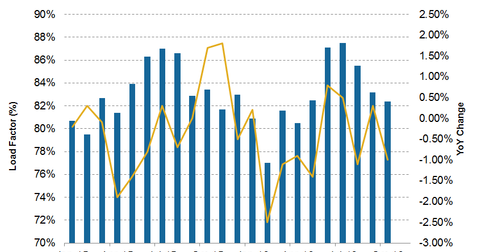 Why United Continental's Utilization Improved in November—And What It Means
By Ally Schmidt

Updated
Improving load factor
In November 2016, United Continental's (UAL) utilization or load factor rose 0.1 percent points. This was expected, as traffic growth for the month was higher than capacity growth during the same period.
Load factor is the most commonly used measure of an airline's capacity utilization and is calculated by multiplying capacity by traffic. A higher load factor indicates the better utilization of aircraft capacity.
As can be seen from the above graph, throughout 2015 and 2016, UAL's load factor has remained very volatile. For fiscal 2015, UAL's load factor fell 0.2%. Year-to-date as of November 2016, utilization has fallen 0.6 percent points.
Article continues below advertisement
Low fuel surcharges
Airlines have benefited immensely from the falling price of crude in 2016. However, for legacy carriers, this has been a double-edged sword. While profitability has improved due to reduced costs, revenues have fallen due to declining fuel surcharges.
Increasing competition
Competition for seats is increasing, as all airlines continue to add capacity. Ultra-low-cost carriers like Spirit Airlines (SAVE) and Allegiant Travel (ALGT) are, in fact, pursuing aggressive capacity additions, adding pressure to legacy carriers UAL, Delta Air Lines (DAL), and American Airlines (AAL).
Outlook
For 4Q16, UAL expects unit its revenues to fall 6%–4%, as compared to 4Q15. Declining yields (revenue per revenue passenger mile) due to increased competition, in addition to demand-capacity mismatches and low fuel surcharges, will likely continue to impact unit revenues.
Notably, UAL makes up 1.1% of the total holdings of the Guggenheim S&P 500 Equal Weight Industrials ETF (RGI).