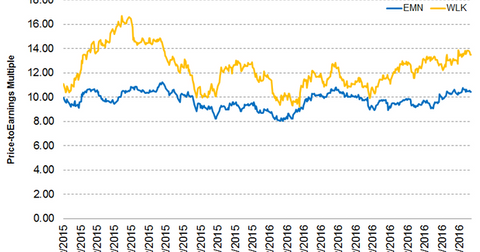 Why Is Eastman Chemical Trading at a Lower Valuation than Peers?
By Peter Neil

Updated
Eastman Chemical's forward PE
Forward price-to-earnings (forward PE) is a relative valuation method that considers a company's future earnings. As of December 22, 2016, Eastman Chemical (EMN) traded at a one-year forward PE multiple of 10.50x compared to its peer Westlake Chemical (WLK), which is trading at a one-year forward PE multiple of 13.50x.
The forward price-to-earnings ratio tells you how much investors are paying per dollar of expected earnings in the next 12 months. Using the PE ratio, investors can compare between two or more companies that operate in the same industry and decide which stock is overvalued or undervalued.
Article continues below advertisement
Eastman Chemicals trades at a discount compared to its peers
Historically, Eastman Chemical traded at a discount compared to Westlake Chemical. EMN's revenue in the past three years has grown at a CAGR (compound annual growth rate) of ~1.6%. However, in 2016 EMN's top line has been declining compared to 2015. Analysts' expect EMN's revenue for fiscal 2016 to be ~$8.95 billion compared to $9.65 billion in 2015, a decline of ~7% on a year-over-year basis.
Also, EMN's net income margin fell from 12.5% in 2013 to 8.8% in 2015. However, EMN's cost saving measures—like the restructuring of debt and reduction of employees—is expected to save approximately $100 million in 2016. Analysts' expect the net income margin to be at ~10.8%
On the other hand, Westlake Chemical's revenue has grown at a CAGR of ~9% between 2013 and 2015. For fiscal 2016, analysts expect revenue to be at $5.1 billion, implying growth of 14.5% over 2015 revenues. Also, WLK acquired Axiall in 2016 and expects the combined revenue to be at $7.6 billion. WLK expect ~$100 million synergies through this acquisition. Also, WLK has reported a net income margin in the range of 14.5% to 16.2% in the past three years, representing a higher margin than EMN.
ETF investment
Investors can access Eastman Chemical indirectly by investing in the Guggenheim S&P 500 Equal Weight Materials ETF (RTM), which invests 4.1% of its holdings in EMN as of December 22, 2016. The fund's other top holdings include Dow Chemical (DOW) and DuPont (DD) with weights of 4.2% and 4.1%, respectively, for the same period.