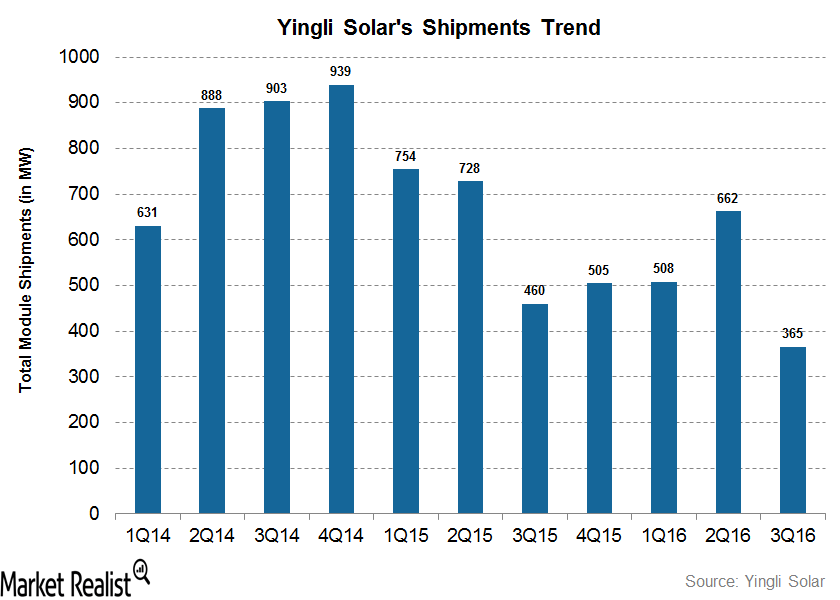 Why Did Yingli Solar's Shipments Fall in 3Q16?
Yingli Solar's shipments
According to the company's filings, there were no shipments to YGE's downstream PV (photovoltaic) projects in the third quarter of 2016. YGE's shipments to its downstream power projects were about 51 MW in 2Q16.
Yingli Solar has suspended new development business of downstream PV projects in China since September 2015. The company does not recognize revenue for internal shipments, according to US GAAP (generally accepted accounting principles).
Article continues below advertisement
Shipment breakdown by geography
According to company filings, shipments to China continued to be a significant portion of YGE's total module shipments in 3Q16. Shipments to China accounted for 55.7% of total PV module shipments compare to 66.5% in 2Q16 and 29.6% in 3Q15.
Japan accounted for 30.5% of total shipments in 3Q16, followed by 10.8% of total shipments to the ROW (rest of world), whereas the US accounted for 3.0% of total shipments in 3Q16.
Why the fall?
The fall in 3Q16 shipments was mainly attributable to the weak demand for company modules from China. According to company's earnings call, FIT (feed-in tariff) adjustments in China and intense competition due to a supply glut in the solar module market resulted in lower shipments in 3Q16. The FIT adjustment also had a negative impact on domestic module sales of company's peers such as Trina Solar (TSL), JinkoSolar (JKS), and JA Solar (JASO).
Yingli Solar expects its shipments to increase in 4Q16. YGE also expects its shipments to China to account for about 65.4% of its total shipments in 4Q16, followed by Japan's 19.9%.
In the next part of this series, we'll look at Yingli Solar's 3Q16 revenues.